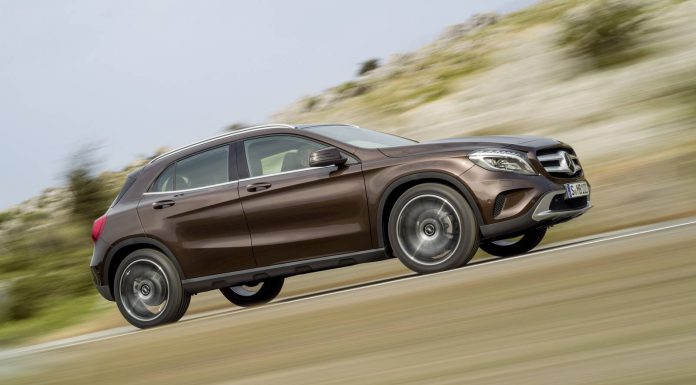 Continuing their move to widen their customer base, Mercedes-Benz today introduced the 2014 Mercedes-Benz GLA-Class. The crossover SUV is designed to compete against the likes of Audi and their Q3, BMw with their X1 and Range Rover with the Evoque. It will offered to European markets as well as in the US and Asia. Most Euopean and US readers will remember the GLK-Class which has been in production for a number of years, Mercedes-Benz will retain the GLK with the GLA slotting in below it in the model lineup.
Those that follow Mercedes-Benz recent run of concepts will remember that Shanghai saw the introduction of a similar SUV concept. Built on the platform of the A-class hatchback and CLA saloon, the GLA-Class measures 442cm long and 149cm high. It comes with the same design language as its younger siblings. Mercedes-Benz describes the process of deisgn as following three fundamental themes; Tradition, Emotion and Progression.
The low greenhouse, raised vehicle body and large wheel arches give it a look unlike any other model in the Mercedes-Benz range. It is the fifth 'off-road' product Mercedes have made available but it doesn't look like any other. Key features include an upright front end with a central star, a diamond-patterned grille, sill guards and skid plates. The aerodynamic efficiency of the design has an effect a positive effect on the SUV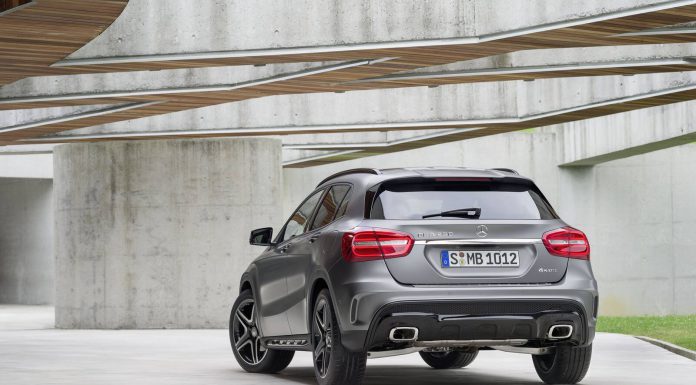 The GLA-Class comes with the new-generation permanent all-wheel drive system 4Matic, with fully variable torque distribution. The first version to hit the US market will be the GLA250 4Matic. It uses a turbocharged and direct-injected 2.0-liter inline four-cylinder engine producing 208 hp and 258 lb-ft of torque. Power is routed through a seven-speed dual-clutch transmission and performance from zero to 60 mph is only 6.4 seconds. Top speed is pegged at 145mph.
European markets will get a 2.2 litre inline 4 powerplant fitted to the GLA 200 CDI. Those that opt for this one will get 136 hp, a maximum torque of 300 Nm and an economy rating of 65.6 mpg. Two versions of the GLA 220 CDI will also debut, both with an inline 4 2.2 litre powerplant. They will both feature 170 hp and 350 Nm of torque, with the choice of 4Matic drive systems.
Inside, all trim surfaces are galvanized in silver-shadow giving surfaces a metallic feel. Specifications get some of the usual Mercedes-Benz refinements and the dash itself gets five round air vents. A 3-spoke steering wheel with 12 function keys and a galvanized chrome clasp comes as standard. The feel is that which A-Class and CLA-Class owners have become accustomed to.