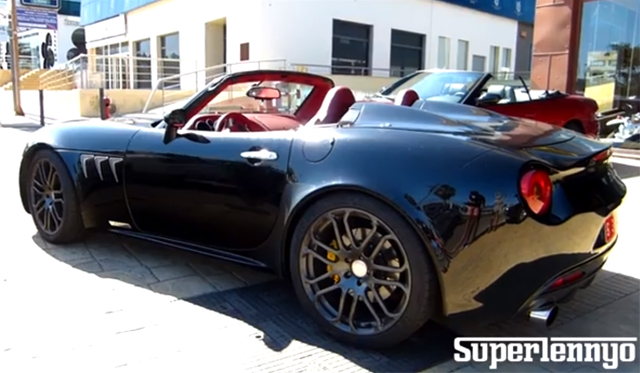 Never heard of the Tauro V8 Spider? Well, we don't blame you as this little known sports car is extremely rare and quite subdued in the styling department. However, Superlennyo on YouTube recently had the chance to film a ride insider the Tauro V8 Spider and it makes for quite an entertaining video!
We're told that the Tauro V8 Spider takes the Pontiac Solstice underpinnings and adds a 6.2 liter V8 LS3 E-Rod engine sourced through GM. The huge powerplant produces 440hp at 6,200rpm and 586Nm at 4,400rpm. Optional upgrades to the engine camshafts and cylinder heads boost those figures to 480hp and 644Nm of torque. Further options are tipped to release 530hp and 663Nm of torque and even as much as 650hp.
The Tauro also gets a limited slip differential, independent suspension on both axles with double wishbones, monotube shocks and springs. The brakes are 360mm ventilated discs with six-piston calipers at the front, at the rear, disks are 335mm ventilated with four-piston calipers.
As far as design goes, the Pontiac Solstice connection is obvious. The engine is front-mounted with the driver sitting far back, almost over the rear wheels. The bodywork is bespoke and blends elements of the most popular roadsters into a small soft top package. We're told that the weight distribution is 52%-48% in favour of the front with an overall weight of just 1,200kg.