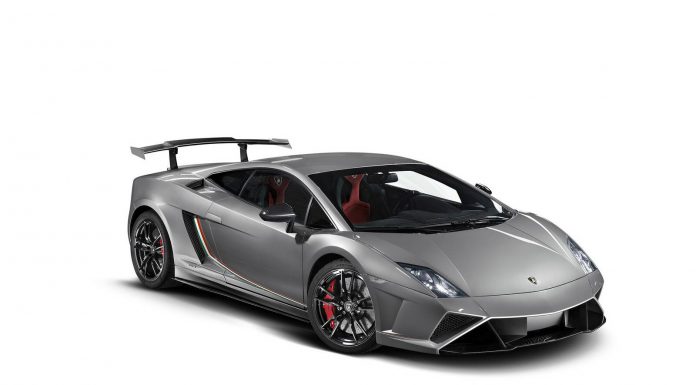 The brand new Lamborghini Gallardo LP 570-4 Squadra Corse (try saying that five times fast) is set to debut at next month's Frankfurt Motor Show.
Ahead of its debut, Autoblog has reportedly learned that in order to purchase the Gallardo's swan song, you will have to pony up $259,100 USD. Color options for the U.S. are about as exclusive as the price tag — owners can only order their car in Lambo's signature Giallo Midas (yellow).
Customers from other parts of the world will have more choices of paint, as they can order their Squadra Corse in either Biano Monocerus (white), Rosso Mars (red), Giallo Midas (yellow) or Grigio Thalasso (gery, as pictured).
Production is limited to 50 units worldwide, with 15 of those slated for delivery in the U.S. Canada, surprisingly, will be receiving 3 of the 50. The rest will be distributed throughout Europe and Asia.
Deliveries will begin sometime in September after the car has debuted at Frankfurt.
[Via Autoblog]