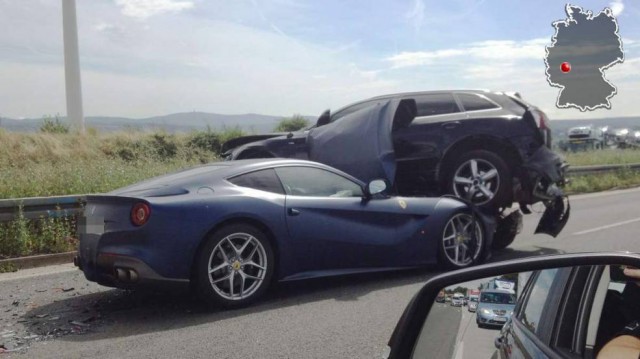 A dark blue Ferrari F12 Berlinetta was recently involved in a crash in Bad Camberg, Germany which saw it smash right into the rear end of an Audi Q5.
It's not yet clear what exactly caused the crash, but based on the traffic jam visible in the wing mirror of the car where the picture was taken, it's possible the Audi Q5 braked hard and the Ferrari F12 Berlinetta was unable to stop in time. Either way, the Ferrari F12 Berlinetta should be repairable despite considerable front end damage with the hood being completely destroyed. Additionally, some suspension and front brake damage could have occurred.
There's no word on the conditions of the drivers, but based on the damage, both should have escaped relatively uninjured.
[Via Bild]