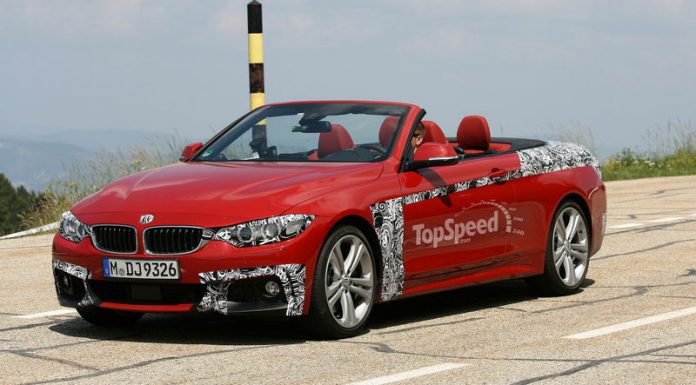 We've been waiting for the 2014 BMW M4 coupe for some time now, and while that range-topping car has yet to be released, the next best thing, the 2014 BMW 4-Series Convertible M Sport has been spotted testing yet again. This time, the prototype featured a bright red paintjob.
While it's yet to be confirmed just what new features will appear on the 2014 BMW 4-Series Convertible M-Sport compared to the regular BMW 4-Series, it's likely to incorporate slightly more aggressive front and rear bumpers as well as a more aggressive rear diffuser and a new set of 18-inch alloy wheels. Additionally, a selection of other dynamic improvements are expected in the M-Sport.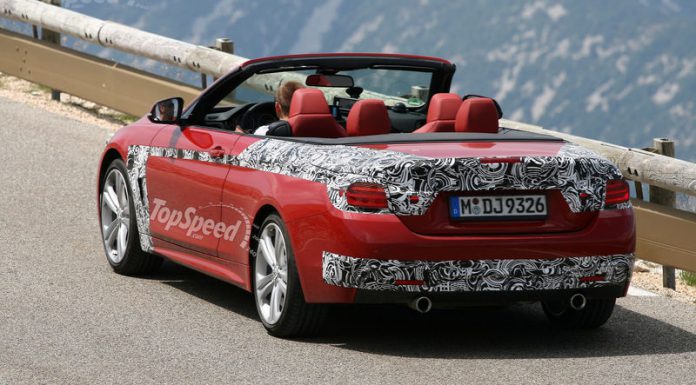 The BMW 4-Series coupe gets an increased wheelbase with lower suspension. The suspension rides 10mm lower than the outgoing 3-Series Coupe. The platform is 26mm longer, 43mm wider and 16mm lower. The car is said to have the lowest center of gravity than any BMW currently on sale.
The 2014 BMW 4-Series Convertible will be offered with the same engines as the coupe. This means three different options will initially be available. They include the 420d with a 4-cylinder turbo diesel engine producing 181bhp, the 428i with a 2 liter 4-cylinder engine producing 242bhp and lastly the 435i with a 3 liter 6-cylinder engine producing 302bhp. Later on, BMW will introduce a 420i with 181bhp, 430d with 254bhp and 435d with 309bhp.
[Via TopSpeed]