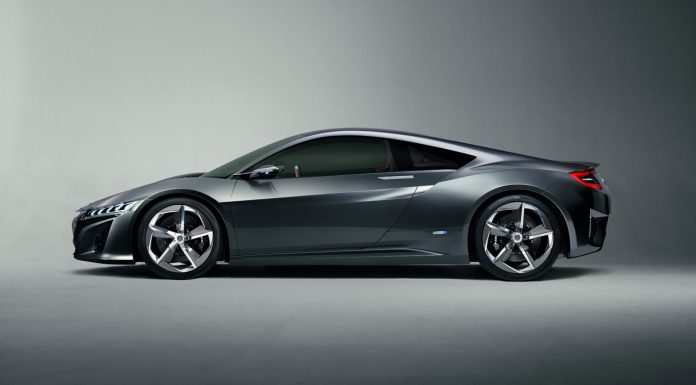 Just a few days after Acura released the very first clip of the 2015 Acura NSX undergoing testing, a longer 24-second clip has been released giving us an even better look and listen into how the 2015 Acura NSX prototype performs on track and its advanced powertrain certainly produces an impressive sound!
In addition to releasing the teaser image below, Acura recently announced that the 2015 Acura NSX is set to make a debut at the Honda Indy 200 IndyCar Series race in Ohio on August 4 with a prototype set to lap the road course. This particular prototype is very similar to the latest concept version of the car released but does feature a modified front end incorporating new blacked-out headlights. Also, if you look closely, you'll notice this prototype is rolling on a set of HRE wheels!
The powerhouse will feature a direct-injected mid-mounted V6 engine mated to a seven-speed manual transmission. Additionally, three electric motors will work together to help drive all four wheels, and to assist with acceleration and braking.
Honda's Sport Hybrid SH-AWD (Super Handling All-Wheel Drive) system will also be utilized. The system is an all-new, three-motor high-performance hybrid system that combines torque vectoring all-wheel drive with hybrid efficiency through the use of three electric motors – one motor integrated with the V6 engine and two motors driving the front wheels. The system enables instant delivery of negative or positive torque to the front wheels during cornering.