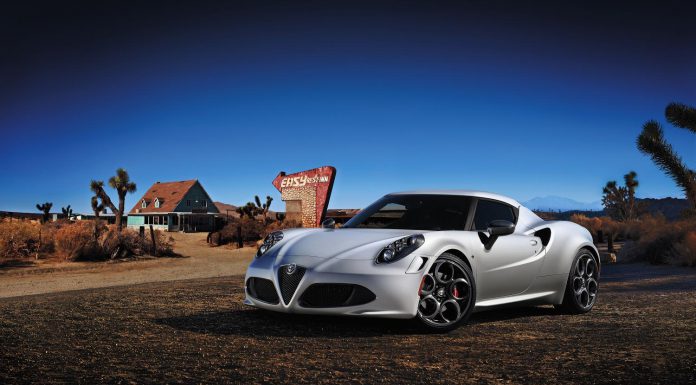 The revolutionary Alfa Romeo 4C sports car is set to inspire various other Alfa Romeo models in the future it's been revealed. Thanks to the advanced systems and materials used in the Alfa Romeo 4C, this news comes as little surprise.
While speaking about the issue, Alfa Romeo's UK brand manager Damien Dally stated that the lightweight nature of the Alfa Romeo 4C as well as it's small yet still quite potent engine will be reflected in the next-generation of Alfa Romeos. While Dally stopped short of revealing any more details, it's clear the weight saving tech of the Alfa Romeo 4C including its extensive use of carbon fiber will eventually funnel down into more affordable models expected to be significantly lighter than their rivals.
Alfa Romeo recently revealed that the Alfa Romeo 4C weighs just 895kg. To put that in perspective, that's an amazing 400kg lighter than the Porsche Cayman S which is actually similarly-sized to the Alfa Romeo 4C. This incredible weight figure of 895kg has been achieved through the use of advanced materials, with one of the most notably weight-saving features being the carbon fiber monocoque which weighs just 65kg.
Furthermore, the Alfa Romeo 4C features hybrid brakes which weigh an impressive 2kg less each than standard discs, as well as thinner windows and lightweight plastic bumpers and wings. These weight saving measures are complemented further by the fact that the Alfa Romeo 4C's body isn't made from sheet steel, and is rather constructed for a material dubbed Sheet Moulding Compound which is 20% lighter while also being corrosion resistant.
[Via Autocar]