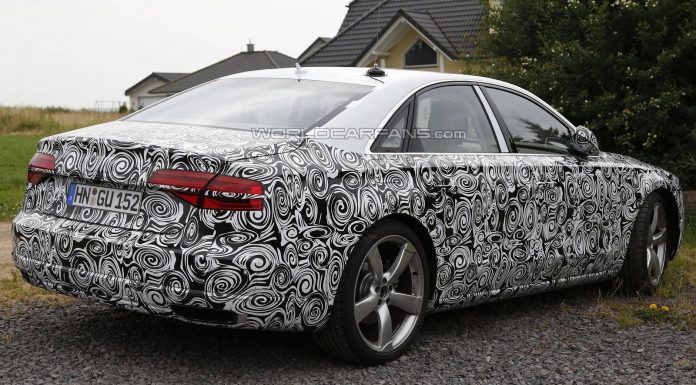 The updated 2014 Audi A8 has been spotted testing for the very first time featuring heavy camouflage everywhere except the roof. From this, it's believed that the facelift will be only minor as the roof will remain the same as the outgoing model.
The following spy images show that the 2014 Audi A8 is set to feature slightly modified and revised front and rear bumpers as well as a revised grille and new exhaust tips and possibly an entirely new exhaust system.
Some of the key technical features expected in the 2015 Audi A8 include the company's latest Matrix LED headlight technology as well as an improved version of the Audi connect internet services. Under the hood, the 2015 Audi A8 will be offered with a 3.0-liter and 4.0-liter TFSI engine as well as a 3.0-liter TDI diesel powerplant. The range-topping engine will come in the form of a 6.3-liter W12 unit.
For those that didn't know, the Matrix LED headlights feature 25 separate diodes each which generally operate in high-beam mode. When an approaching car is spotted by the camera, the Matrix LED headlights don't just simply shut off the high-beams and instead keep them on with the light being cast away from the eyes of the opposing driver and instead focused on the road ahead!
The revised 2014 Audi A8 is expected to debut at the IAA Frankfurt Auto Show 2013 in September.
[Via World Car Fans]