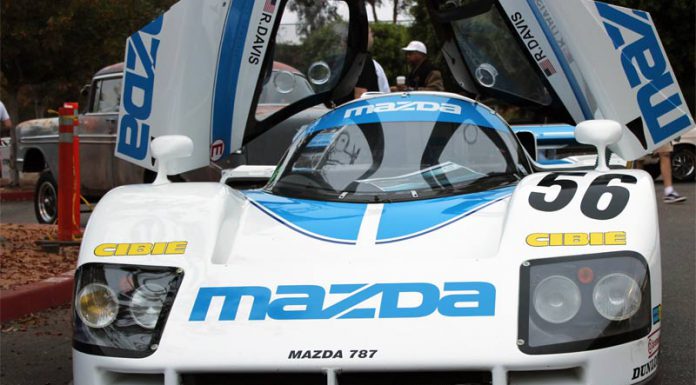 The Mazda 787 and its B variant are some of the most impressive sounding racecars ever built. The 787 campaigned in Group C and IMSA GTP during the 1990s and its 787B variant became the first and only Japanese marque to win the 24 Hours of Le Mans. That record stands to this day.
The video of the Mazda 787, captured by Bureau of Speed, captures the pure sound of that amazing rotary engine as the 787 is revved up for the huge crowd of spectators.
The 787s were the last rotary-powered racing cars – using Mazda's R26B engine – to compete in the World and Japanese championships. Only two 787 specification cars were created during 1990, which is why it comes as such a surprise that one would appear at the local Cars and Coffee show in Irvine, California. The car, which was displayed by Mazda, continues to be campaigned by Mazda for both PR purposes and for the occasional historical race at Mazda Raceway Laguna Seca.
The 1990 Mazda 787 is powered by a Wankel rotary engine that produces an astounding 700 hp and 448 lb-ft of torque. According to the Mazda museum, the car is perfectly capable of outputting upwards of 930 hp with perfect reliability. The car that Mazda provided was one of three 787s to compete at the 24 Hours of Le Mans in 1991, where the 787B took its maiden victory.
Check out the video above to hear the awesome sound of that rotary engine revving up.