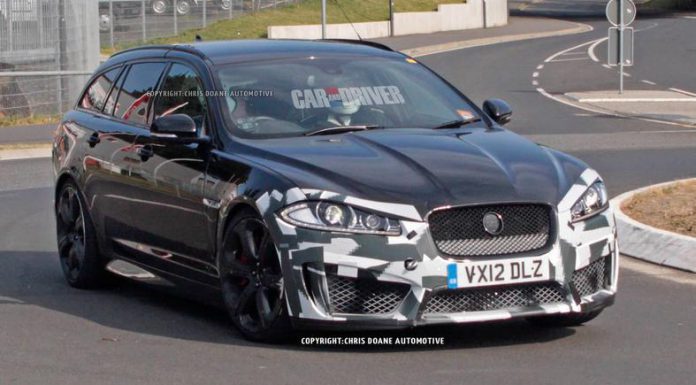 An uprated variant of the Jaguar XF Sportbrake was recently spotted testing in the heart of Germany in what's believed to be Jaguar XFR-S Sportbrake guise. As the following images show, this Jaguar XFR-S Sportbrake features a selection of visual and aerodynamic improvements and under the hood, some exceptional changes are afoot.
Just like the Jaguar XFR-S sedan, the Jaguar XFR-S Sportbrake will feature an awesome 5.0-liter supercharged V8 engine mated to a ZF eight-speed automatic transmission. The car originally debuted in sedan form painted in a blue color trim, similar to the XKR-S and called French Racing Blue, and delivered an impressive 550hp and 680NM of torque. This is 40hp and 55Nm higher than the XFR. The engine output is similar to the specs of the XKR-S. A sprint from naught to 100km/h is done in 4.6 seconds and the top speed is 300km/h. A new exhaust system improves the sound track of the fastest and most powerful sedan Jaguar has ever produced.
Delving into further details about the ZF transmission set to make a return in the Jaguar XFR-S Sportbrake, the system cleverly adapts itself to the driver. When operating in automatic mode, the transmission can detect the manner in which the car is being driven by monitoring acceleration and braking, cornering forces, throttle and brake pedal activity, road load and kickdown request. On detecting a more enthusiastic driving style, the transmission will automatically make the gearshifts more aggressive and move the upshift point higher in the rev range. It will even adapt and check if you have the correct gear selected when you enter a turn.
Because this is the very first time the Jaguar XFR-S Sportbrake has appeared testing, it's hard to guess when the car will debut. However, an appearance at the IAA Frankfurt Auto Show 2013 in September or the Los Angeles Auto Show 2013 later this year are both likely candidates.
[Via Car and Driver]