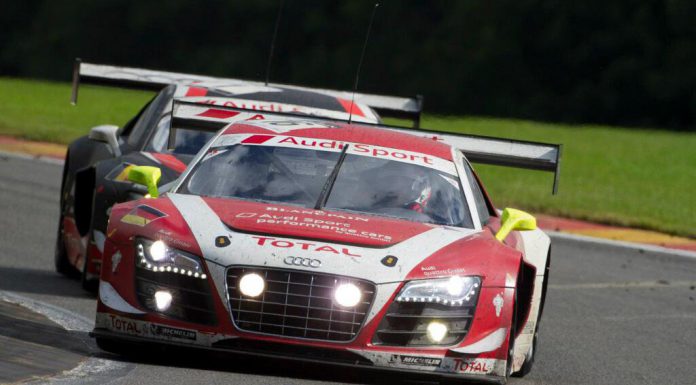 The 24 Hours of Spa 2013 is set to kick off this weekend and the 65th edition of the historic race promises to be one of the best endurance races ever held at the awesome Spa-Francorchamps track in Belgium!
At last year's event, Phoenix Audi won the with an Audi R8 LMS Ultra. The winning drivers were Frank Stippler, Rene Rast and Andrea Piccini. It was an Audi one-two with the WRT Audi R8 LMS Ultra coming a very close second. It was the third major endurance victory for Audi during the 2012 season following success at the Le Mans 24 Hours and the Nurburgring 24 Hours.
Over 53,000 fans came to view last year's the race. The race began and finished in sunshine but was marred by a number of extreme events. Several safety car periods characterised the race and a couple of torrential downpours slowed progress. The winning car ran 509 laps, logging more than 2,200 miles
While the 24 Hours of Spa 2013 will once again be highlighted by the GT category of racing cars, with at least 70 cars entering the race from 9 different manufacturers like Porsche, Ferrari, Audi, Lamborghini, Mercedes, Aston Martin and McLaren, a number of other races take place during the weekend. Some of these include two races from the Lamborghini Blancpain Super Trofeo series, the Cooper Tires British F3 International Series, Formula Renault 2.0 Northern European Cup as well as the Aston Martin GT4 Challenge of Great-Britain.
Ultimately however, the actual 24 Hours of Spa endurance race will overshadow the various other series' competing during the weekend. Last year's winners Rene Rast and Frank Stippler will both return with Rast set to compete in an Audi R8 LMS Ultra yet again in the number one car while Stippler will also pilot an Audi R8 LMS Ultra alongside Christopher Miles and Andre Lotterer in the number 2 car. Both are a part of the Belgian Audi Club Team WRT. A notable absentee however is Andrea Piccini.
The Total 24 Hours of Spa 2013 Blancpain Endurance Series will start with pre-qualifying from 18:15 to 19:15 on Thursday followed by the Pit Walk, Qualifying and then Night Qualifying later that day. The Super Pole session will then take place at 18:15 and run for 20 minutes on Friday before the official 20-minute warm up on Saturday morning. The main event will start at 16:30 Saturday afternoon and run for 24 hours (obviously!) until Sunday afternoon.
Stay tuned to GTspirit for more Spa news throughout the coming days!