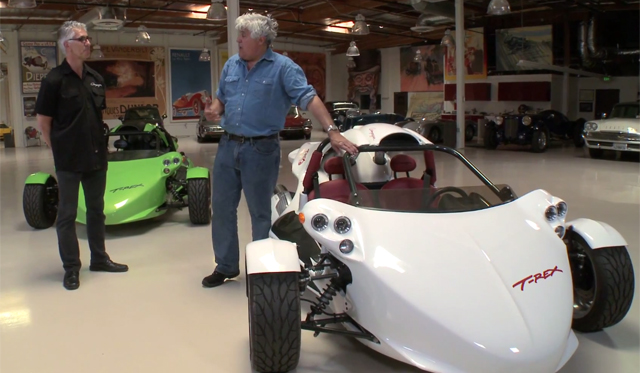 It goes without saying that the Campagna T-Rex is one of the most unique vehicles currently on sale, and the simple fact we've called it a 'vehicle' rather than a car plays testament to its uniqueness as it only features three wheels, a motorcycle engine and no doors.
For quite some time, the top of the line Campagna T-Rex has been a model dubbed the 14R which utilises a tiny Kawasaki derived four-cylinder engine producing 197hp and 113lb-ft of torque. When combined with the low overall weight of just 1,040 pounds, the Campagna T-Rex 14R is actually quite the performance machine, even though its looks may indicate otherwise.
And just a few months ago, Campagna announced it had reached a deal with BMW to provide engines for upcoming T-Rex models and the company recently confirmed that a BMW six-cylinder powered T-Rex was on the horizon. Well, that very car has recently been released , approved for driving on U.S. roads and Jay Leno recently had the chance to drive one of the very first V6-powered Campagna T-Rex's.
In the following video, it's revealed that the T-Rex is actually registered as a motorcycle and is capable of pulling 1.1G. The aforementioned BMW engine is a 1.6-liter unit and deliveries 160hp and features a motorcycle transmission fitted with an aftermarket reverse gear.