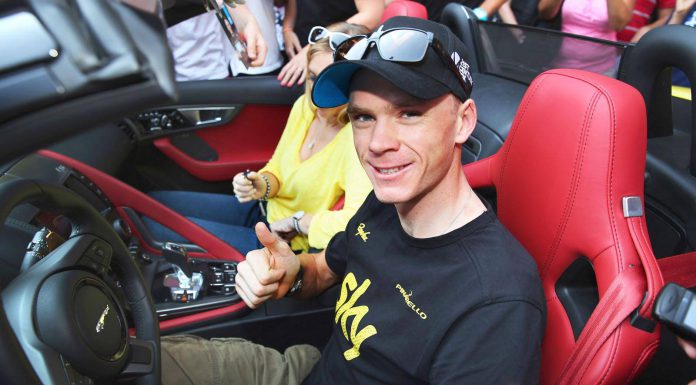 To celebrate his historic victory at the Tour de France 2013, winner Christopher Froome was handed the keys to a brand new 2013 Jaguar F-Type V6 S complete with the livery of Team Sky Pro Cycling which Froome rides for.
Froome's one-off Jaguar F-Type V6 S consequently resembles the Jaguar XF Sportbrake used by Team Sky during the Tour de France with it feature a massive yellow pinstripe down the body of the car.
The Jaguar F-Type V6 S gets a slightly uprated version of the same 3.0 litre V6 engine with 380hp guided from the front-mounted engine to the rear wheels. The V6 S also gains a mechanical differential. In fact, on account of the optimal setup, a potent light-weight engine matched to a lightweight aluminium structure, Jaguar believes that the V6 S will be the most popular version of the F-Type.
The sprint to 62mph is completed in just 4.9 seconds while top speed is limited to 171mph, 10mph more than in the standard V6 model. The Jaguar F-Type V6 S has an 8-speed semi automatic gearbox, as do all other models in the range.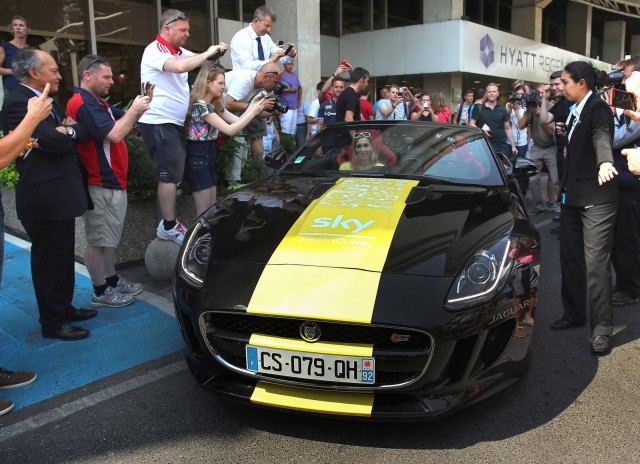 When discussing his historic win and the help provided by Jaguar, Froome said, "Every young cyclist dreams of one day riding in the Tour de France, let alone winning it. I haven't done it alone though. Team Sky has a great set of partners, and I'd like to thank Jaguar for their brilliant support over the past four years. They've invested a lot of time and ingenuity into designing the XF Sportbrake, which is the perfect race support car for us. It has been crucial to keeping the team on the road throughout the competition."