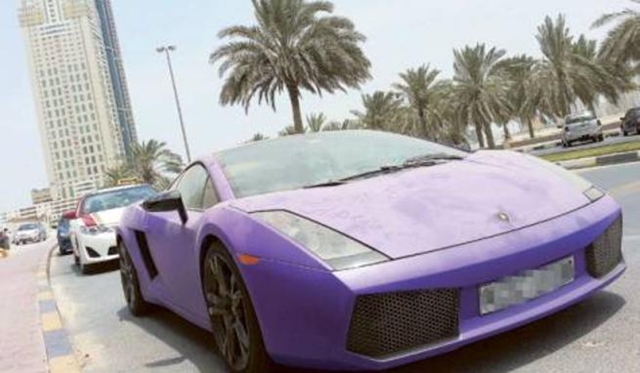 An Arabian football professional has apparently abandoned his purple Lamborghini Gallardo on a main road in Sharjah, United Arab Emirates.
The 500hp Lamborghini Gallardo has been gathering dust for about a week in front of the Palm Tower 1 residential building. Tourists and local residents are joking and speculating as to the reasons for the owner abandoning the supercar.
The tower's tenants and security said that people have been posing for pictures with the car and jotting down memos like "Call me if you want to sell" or "Please wash me" on its dusty body. A security guard in the tower said police are aware of the car's presence and that the car has been slapped with a fine. Meanwhile, people and animals have taken liberties with the car, with shoeprints and paw prints are visible on the vehicle body.
Information on the car number plate on the Dubai Police website says it is "wanted for impounding" for "driving an unlicensed vehicle." There are also several fines registered on its number plate, mostly for illegal parking and Salik, Dubai's road toll system.