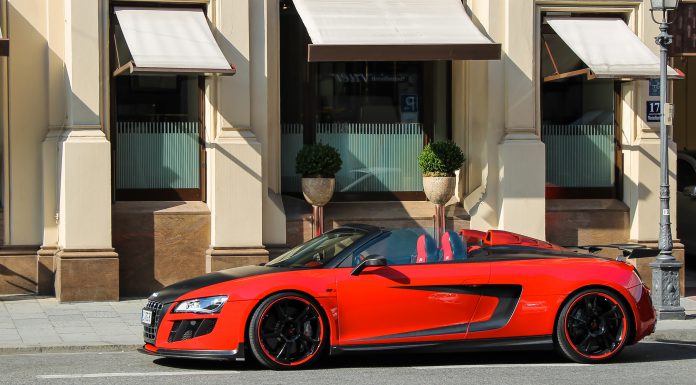 Earlier in July, this ABT R8 GTS was spotted in Munich, Germany. Captured on the Maximillianstraße by Countach Fan on Flikr, this car really stood out from the normal Bentleys or Maseratis parked on the street.
Back in 2010, GTspirit visited ABT Sportsline's factory based out of Allgäu, Germany. Although ABT Sportline normally focuses their attention on Audi, the aftermarket tuning company also gives attention to other manufacturers in the Volkswagen Group such as Volkswagen, Škoda, and SEAT.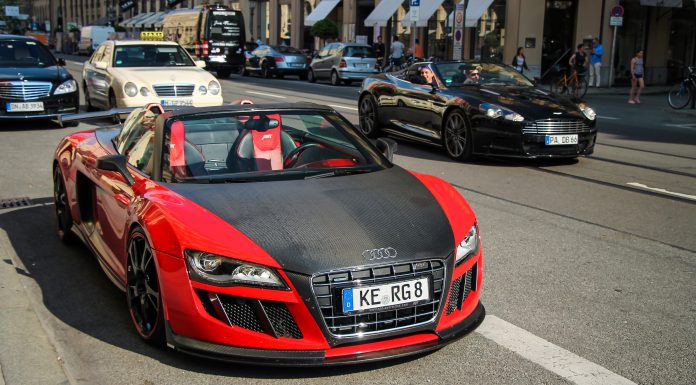 This particular model from the ABT line is the ABT R8 GTS. The R8 GTS is a heavily modified version of the Audi R8 Spyder and is powered by a 5.2-liter V10. The normal Audi R8 V10 Spider produces 525hp while ABT's R8 GTS produces a menacing 620hp which rockets it from 0-62 mph in just 3.6 seconds. ABT fitted the R8 GTS with a new sport exhaust which produces a louder sound and also increases performance.
As seen in pictures, ABT added many exterior appearance modifications such as a carbon fibre hood, new 20″ wheels, a new spoiler, new mirrors, and many other modifications that make the car stand out from a normal Audi R8 Spyder. Although, ABT did not forget about the interior. Inside the car, they've added a red carbon fibre steering wheel while the center console and parts of the door are dressed in red exposed carbon.