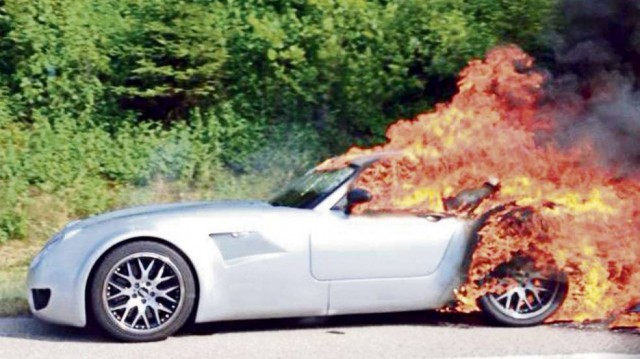 A rare silver Wiesmann MF5 has gone up in flames on the A96 motorway in Bavaria, Germany. It's not yet known exactly what caused the fire to start but it did start at the rear of the car with the owner first noticing the flames through the rearview mirror.
Making such a location all the more unusual for a component to ignite is the fact that the Wiesmann MF5 is front-engined. According to the highway patrol however, the fire could have ignited after oil leaked out of the engine or the fuel tank and came in contact with the hot exhaust pipes. Within minutes, the entire Wiesmann MF5 was up in flames.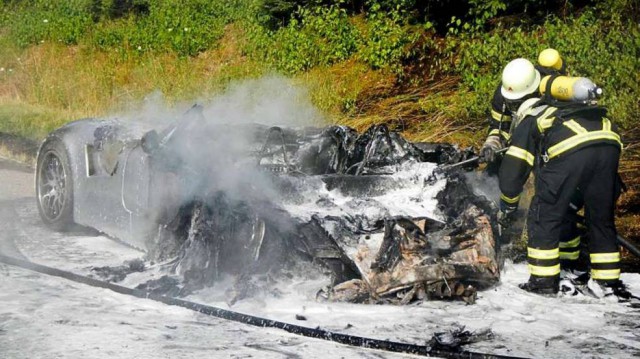 Fortunately however, the driver of the Wiesmann MF5 managed to escape the inferno before it engulfed the entire vehicle.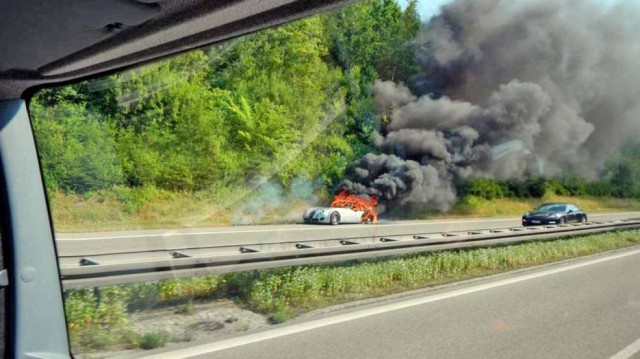 The Wiesmann MF5 is the top-of-the-range model and is equipped equipped with the same 4.4 liter V8 twin turbo direct injection petrol engine as the Wiesmann MF4. The only difference between the two is the performance. The MF5's motor specifications are 555hp at 5,750 to 6,750rpm, 0 to 60mph in 3.9 seconds and a top speed of 193mph. The new engine makes the MF5 model series the most powerful Wiesmann car ever produced. Also read our review of the latest generation Wiesmann MF5!
Consequently, the Wiesmann MF5 is a true driver's car and one of the most unique European supercars on the road.
[Via Bild]