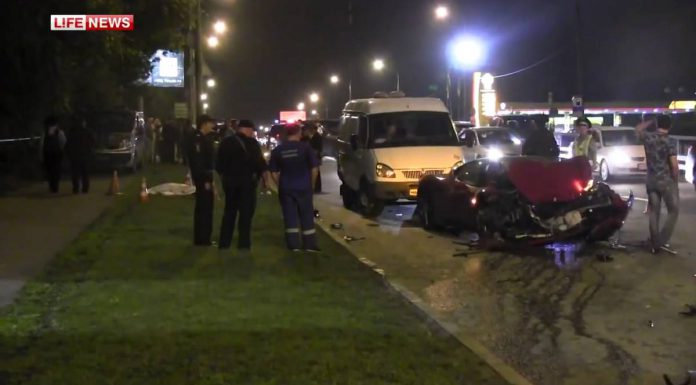 A Ferrari 458 Italia hit a pedestrian while speeding before smashing into a Mercedes-Benz S Class, the pedestrian died. The Ferrari was being driven by 23-year-old Larion Vuokila, son of Russian billionaire Alexander Zajonc and former vice-president of M-Video. The pedestrian was a 62-year old man coming from the mosque when the incident took place.
From the video which was recorded by an in-dash camera of a different car, the Ferrari appeared ahead at high speeds with the pedestrian on the bonnet having not touched the ground yet. We are not sure if the pedestrian was smashed against the Mercedes but the video gives room for obvious assumptions.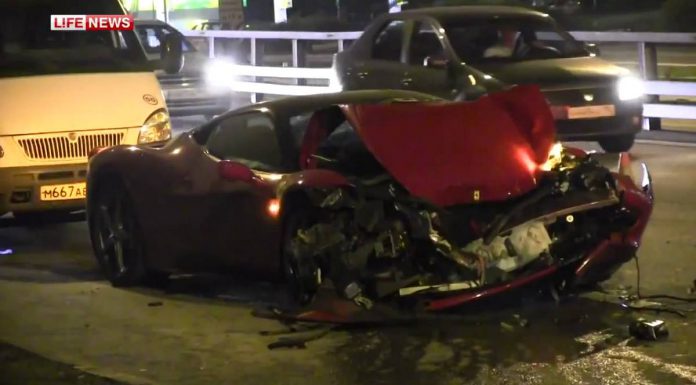 When translated, one of the description in the videos read;
In the evening on July 10 at the Minsk street in Moscow car Ferrari 458 Italia, driven by a 23-year-old Larion Vuokila, son of the former vice-president of the company "M-Video" Alexander Zajonc, death knocked down a pedestrian – 62-year-old retiree Nariman Gaynulov returning from the mosque with a prayer. Then Ferrari crashed into a Mercedes.

According to law enforcement officials, after the accident Vuokila with a concussion was taken to the hospital № 1 named after Pirogov, but after a medical examination, he ran away from there. 11 day of July, he was arrested by the police. Due to the accident opened a criminal case under part three of Article 264 of the Criminal Code (violation of traffic rules, resulting in the death of a person).

According to RIA "Novosti" with reference to the press service of the police department, "Internal Affairs investigator for the Western Administrative District Moscow will be the election petition against the driver-party accident on the streets of Minsk remand in custody.
Its sad that this has to happen to pedestrians especially old ones, regardless of the speed of one's car, great caution should always be taken. If the driver of the Ferrari faces the law without interference from external powers, this would land him a jail term should he be found guilty. Again, some of this incidents are always avoidable, and with great power, comes great responsibility, let not your sports car control your limits!
http://www.youtube.com/watch?v=o9Dw0GU3Qz4
http://www.youtube.com/watch?v=BKCqh8qJ2G8
[Source: Carscoops]