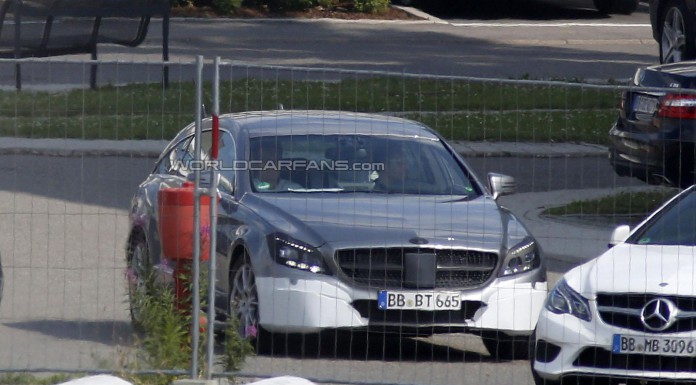 A prototype for the upcoming 2015 Mercedes-Benz CLS Shooting Brake was recently spied testing at a company parking lot wearing minimal camouflage covering what's expected to be only a slight facelift.
As the following images show, this 2015 Mercedes-Benz CLS Shooting Brake is wearing a new front bumper, a different front grille as well as redesigned headlights. From the rear, the car looks identical to the outgoing model.
The current 2013 Mercedes-Benz CLS range is topped out by the Mercedes-Benz CLS 63 AMG Shooting Brake. As the name suggests, the Mercedes-Benz CLS 63 AMG Shooting Brake gets the common AMG 5.5 liter V8 biturbo engine. It's available as standard with 525hp and 700Nm of torque or tuned though the optional 'Edition 1' package to 557hp and 800Nm of torque. The V8 includes direct petrol injection with spray-guided combustion, piezo injectors, air/water intercooling, generator management and a start/stop function. Performance figures include a zero to 100km/h sprint of 4.4 and 4.3 seconds respectively, and an electronically limited top speed of 250km/h.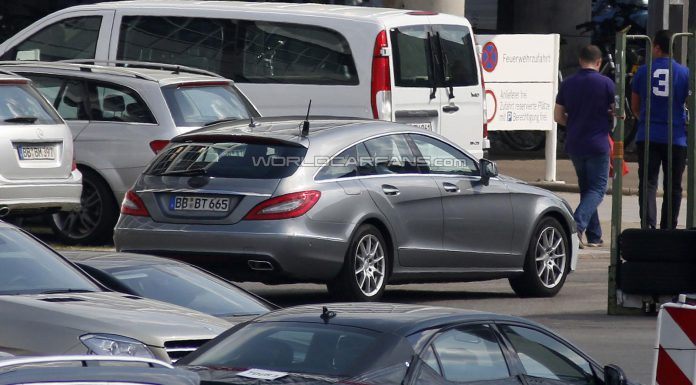 AMG fitted their Speedshift MCT seven-speed transmission with four different transmission modes, 'race start' and automatic double declutching functions. As we've seen in all recent AMG modes, this includes 'Controlled Efficiency' mode with stop/start, 'Sport' mode, 'Sport Plus' and 'Manual'. The CLS 63 AMG Shooting Brake also features AMG Ride Control with 'Comfort', 'Sport' and 'Sport plus' settings. AMG also fitted a three-stage ESP and sport handling mode.
The 2015 Mercedes-Benz CLS Shooting Brake is expected to be fitted with the same engine options as the current-range, including the aforementioned 5.5-liter biturbo V8 found in the CLS 63 AMG.
[Via World Car Fans]