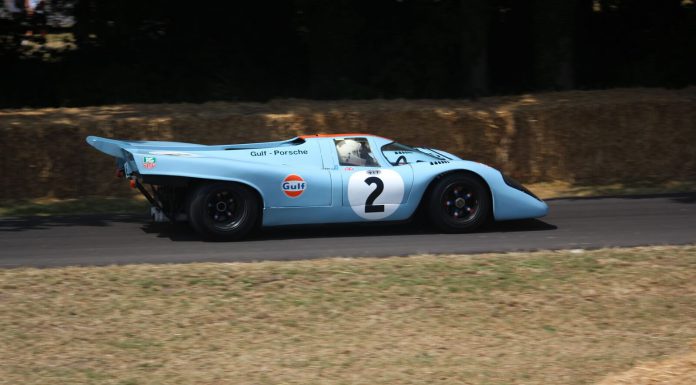 Porsche, whilst being a relative latecomer in motorsport history, has one of the biggest reputations. It is the most successful brand for outright race wins. Porsche branded racing models have been more competitive than any others, scoring over 28,000 victories in a variety of races. Perhaps their most impressive record is the 16 24 Hours of Le Mans wins between 1970 and 1998.
At the Goodwood Festival of Speed 2013, Porsche happen to be the centrepiece brand this year. As you would expect, the paddocks are lined with exotic German race winners!
Porsche enjoyed success at Le Mans with a number of historically significant cars. Its first win came in 1970 with the Porsche 917K which also managed a consecutive win in 1971. The Porsche 936 won in 1976 and 1977 before the monstrous Porsche 935 K3 took the 1979 title. Moving into the 80's the Porsche 936 remained dominant with a win in 1981. The following year it was replaced by the Porsche 956 which took back to back wins between 1982 and 1985.
The Porsche 956 was eventually retired in 1986 and superseded by the Porsche 962C. The Porsche 962C won won in 1986 and 1987 before Porsche's unbeaten streak came to a close. After seven consecutive wins, the next Le Mans overall victory came in 1994 when a Dauer 962 Le Mans took the top spot driven by Yannick Dalmas, Hurley Haywood and Mauro Baldi. Three more victories were to come between 1996 and 1998 with the TWR Porsche WSC-95 and the Porsche 911 GT1-98 before Porsche retired from the event in the face of fierce competition.
The story doesn't end there though. By 1998, the Porsche brand became so entwined with Le Mans that private racing teams continued scoring group victories at the epic 24 hour race. This year for example, the brand new Team Manthey Porsche 991 RSR scored a victory in the LMGTE Pro class. Next year Porsche will re-enter LMP1 with the sole aim of toppling Audi's R18.
As you would expect, Porsche has been successful elsewhere in endurance racing having won 22 Daytona 24 Hours victories, 15 IMSA Supercar-Race victories and 18 12 Hours of Sebring victories.
We've collected a gallery of Porsche Le Mans racers at the Goodwood Festival of Speed 2013, enjoy! Perhaps let us know your favourite… ours is the iconic Porsche 917!