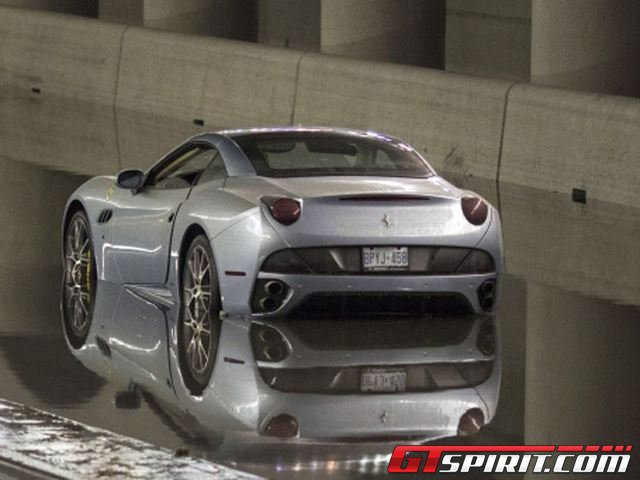 Last week in Toronto, rain was prominent which caused a large amount of flooding in the city and some surrounding areas which turned out to be a massive problem for one Ferrari owner. This Ferrari California, which was owned by an unemployment lawyer, was driving under an overpass during a torrential downpour which caused the underpass to be filled with water.
The lawyer by the name of Howard Levitt was on the way to an important hearing in his Ferrari when he underestimated the depth of the water thinking that it was more of a shallow puddle. As he entered the water, the California attempted to surge through it but unfortunately did not make it after the engine bogged down and made the exotic supercar stationary.
Mr. Levitt claimed that the sewer system under the overpass was spewing water causing the water level to rise all the way up to his windows. He phoned a towing company but decided that the case was more important so he hailed a cab and rode to the airport, abandoning his Ferrari.
The lawyer, optimistic and hopeful, didn't sweat the fact that he had lost his $200,000 luxury sportscar.
"I don't want to sound cavalier, but at the end of the day you've got to see the humor in it and not sweat the small stuff. And it really is all small stuff" he said.
"Nobody's dying, nobody's sick. The car gets fixed up and there's insurance for that."
Mr. Howard A. Levitt succeeded and won the case on his clients behalf.
[via Autofluence]