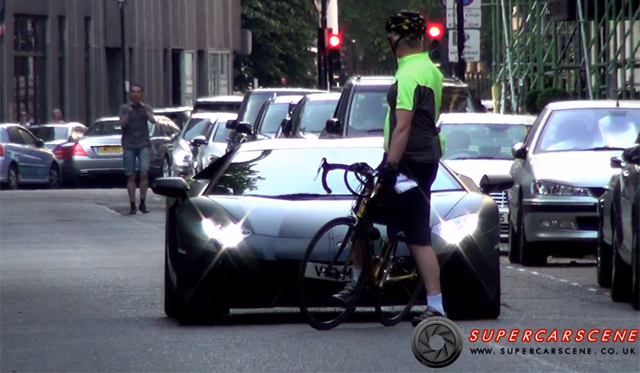 While we find this very hard to comprehend as automotive and supercar enthusiasts, not everyone loves cars as much as we do. Consequently, when summer comes around in London and Middle Eastern supercar flood the streets, some local residents get extremely upset and the following selfish cyclist recently took matters into his own hands by stopping a matte black Lamborghini Aventador in its tracks.
As the following video from supercarsoflondon shows, the cyclist waited by the side of the road for the Lamborghini Aventador to head towards him. The cyclist then rides straight into the middle of the road and blocks the Lamborghini Aventador. As you'd imagine, the Lamborghini driver wasn't pleased and revved the 6.5-liter V12-powered Italian hypercar ferociously to try and move the cyclist. However, he wouldn't budge and the driver was forced to carefully drive around him.
Compounding the stupidity of the cyclist even further is the fact that he is illegally riding in the middle of the road, while the Lamborghini Aventador has absolutely every right to drive around. What's more, unlike Nasser Al-Thani's 'Tron' Lamborghini Aventador which was recently seized by police and later released, this Aventador did have a number plate on the front.
This begs the question, could this stupid cyclist be the one who threw that egg at a yellow Ferrari 458 Spider a few days ago?