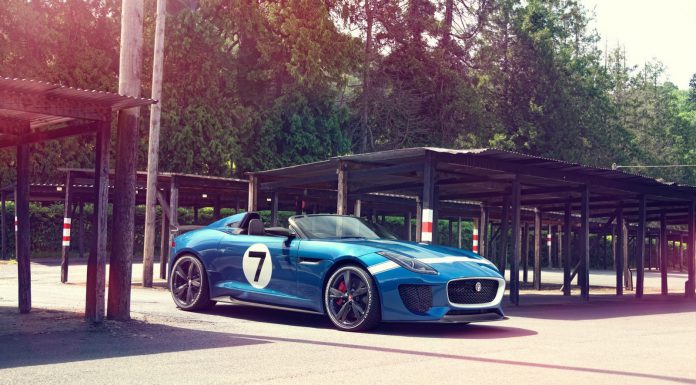 Ahead of the Goodwood Festival of Speed 2013, Jaguar has released the first images and details about its star for the historic show with the release of the Jaguar F-Type Project 7 Speedster. As the name suggests, the Jaguar F-Type Project 7 Speedster is based off the standard Jaguar F-Type except is a one-off design concept created by the British firm.
The design and creation of the Jaguar F-Type Project 7 Speedster was led by Jaguar's Director of Design, Ian Callum and has been inspired by the Jaguar D-Type racing car produced in the mid-1950's. In fact, the Jaguar D-Type was an extremely successful racer and managed to with the 24 Hours of Le Mans in its class in 1955, 1956 and 1957.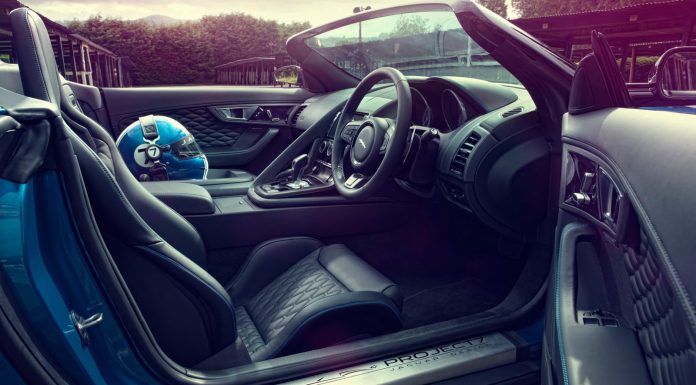 To turn the regular Jaguar F-Type convertible into a true speedster, Jaguar removed the entire fabric roof and its lifting system and fitted the car with a low-slung windscreen, a new livery as well as a prominent rear buttress behind the driver's head which includes a rollover hoop. Other design differences include a new carbon fiber front splitter, side skirts, a larger rear diffuser, 20-inch Blade forged-alloy wheels completed with carbon fiber accents, new bonnet vents, side mirrors, larger air intakes at the front as well as the prominent fixed rear spoiler with a 14-degree angle.
When discussing the Jaguar F-Type Project 7 Speedster, Callum said, "Project 7 is a single-seater sports car based on the F-TYPE, with the kind of racing-inspired form that designers dream about. It has one purpose: to be driven fast and enjoyed. Jaguar sports cars are known for exceptional performance and clean design. Project 7 captures that spirit in its purest form."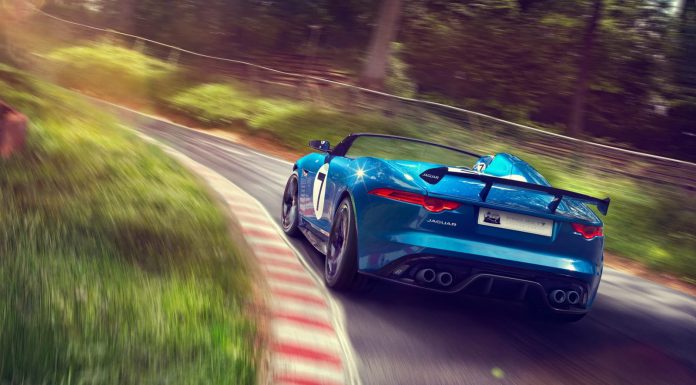 Moving to the inside, the Jaguar F-Type Project 7 Speedster features diamond pattern leather trim, carbon fiber inserts, machined aluminium paddles and a sports steering wheel. However, the most prominent interior change is the removal of the passenger seat which has been replaced with a unique helmet holder.
Under the hood, the Jaguar F-Type Project 7 Speedster utilises the same 5.0-liter supercharged V8 as the standard Jaguar F-Type V8 S. However, Jaguar engineers managed to increase horsepower by 54 ponies and 41lb-ft of torque bringing the total figure up to 542hp and 501lb-ft of torque. Consequently, the Project 7 can hit 60mph in just 4.1 seconds and a top speed of 186mph.