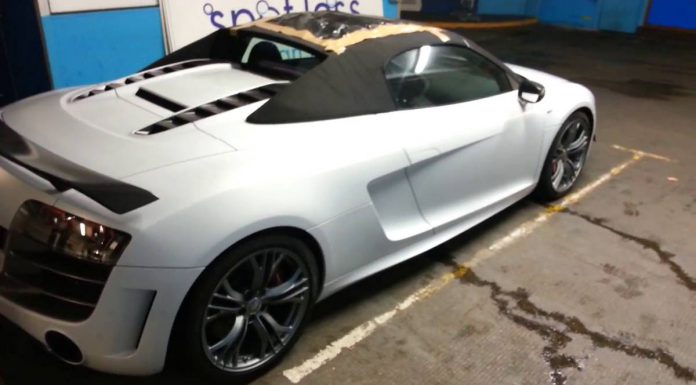 Hard economic times has become a common phrase in Europe, one of those topics that would trend worldwide without a hashtag. The owner of this Audi R8 GT Spyder is definitely not out of ideas as he opted to fix his broken roof by using duct tape and bin liners. The cost of those two items is definitely cheaper than the OEM repair cost.
The cost of an Audi R8 GT Spyder stands at around $210,000 depending on your location, nevertheless, an yearly maintenance cost amounts to approximately $60,000 for the first year, that arises from insurance costs and repair but depreciation takes the larger share. It has never been cheap maintaining a supercar even manufacturers will not bother using that line as their cash cow- and that's why a supercar will not fit as a daily driver car.
Fixing the roof with duct tape on this Audi R8 GT Spyder could be temporary, it doesn't have to be a permanent thing, in any case only the owner could tell more. However, for a 5.2 liter V10 engine with 560 hp, one better get ready to be surprised as even the slightest damage of a fender could end you into draining your last penny!
http://www.youtube.com/watch?v=ADe6HiAlBWg