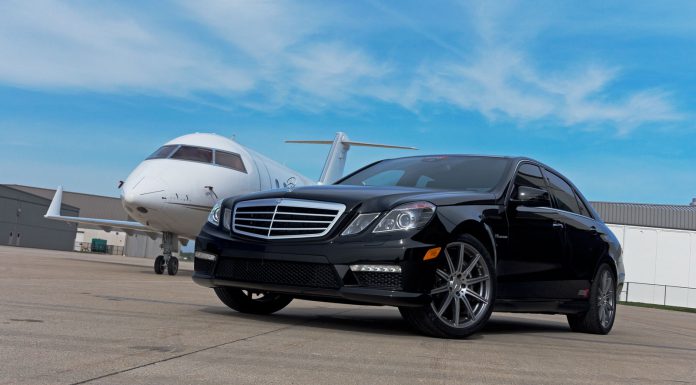 When the name Alpha comes up, we think of the monsterous Nissan GT-R we've seen from Alpha Performance in the past. Nissan GT-R's which have also broken several world records! But we also know they have similar projects for Mercedes-Benz vehicles.
Their latest project is based on the Mercedes Benz 5.5L BiTurbo (M157) and dubbed the Alpha 9 BiTurbo. This upgrade is said to give the engine an output of 900hp+. The figures are enticing enough. As a result, the Alpha Performance E63 AMG does 60-130mph in just 6.58 seconds. There is a comparison table below to show how fast this is.
To get this sort of performance, Alpha did a complete replacement of the Garrett ball bearing center cartridge. This is unlike the normal wheel swap upgrade where just a larger compressor wheel is installed on the OEM journal bearing turbo. This set up of the Alpha-spec billet compressor wheel has the latest design software and machining processes for maximum output and efficiency.
So, what exactly do you get with this new upgrade?
Apart from the 200hp+ increase, you get a complete turbo assembly not just a larger wheel on a stock turbo. This will result in a smooth drive with no loss in your fuel economy. Stock heat shielding is also utilized in this upgrade. The new upgrade will also allow for further engine modifications if necessary. With pump gas, you get 750hp+ and 850hp+ while running on race fuel.
The following cars will benefit from this upgrade; 2012+ models are E63 AMG, CL/CLS63 AMG, G/GL63 AMG, ML63 AMG, SL63 AMG and the 2011+ models of the S63 AMG. In future, this upgrade will be applicable to 2012+ models of the 550 Series 4.6L Twin Turbo V-8 Engines.
As promised, here is a comparison sheet of 60-130mph times of various cars with that of the Alpha Performance E63 AMG.
Alpha E63 AMG – 6.58
Ferrari Enzo – 7.00
SLR McLaren – 7.24
Porsche Carrera GT – 7.3
Ferrari 458 – 7.8
Corvette ZR1 – 7.8