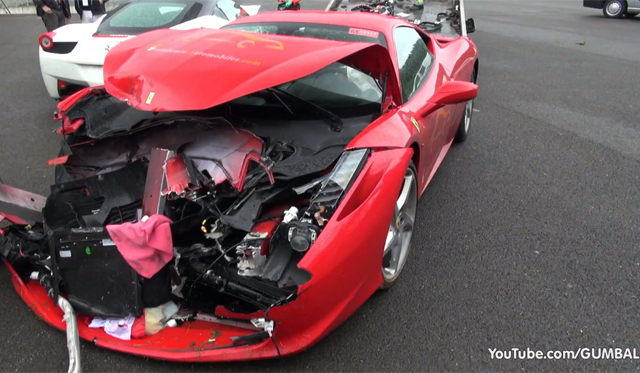 A Ferrari 430 Scuderia and two Ferrari 458 Italias suffered high speed crashes during the Ferrari Owners Day 2013 at Spa Francorchamps with the Ferrari 430 Scuderia crash being caught on camera by Mikesupercars on YouTube.
As the first video below shows, the grey Ferrari 430 Scuderia loses control under braking heading into the infamous Eau Rouge corner. It's not yet known what caused the crash, but inexperience on the part of the driver in driving on such track days is likely as it was one of the first laps the owner had taken the car out on track. As the video shows, the engine lid opens up for safety and the driver was able to walk away from the high-speed crash. Unfortunately, the Ferrari 430 Scuderia didn't fare so well and was damaged on the left side and wouldn't initially start after the crash.
Fortunately the damage on the Ferrari 430 Scuderia doesn't seem too bad but the same can't be said for the two Ferrari 458 Italias destroyed at the same track day. Gumbal on YouTube was able to film these two Italian supercars destroyed after being returned to the pitlane but those crashes weren't caught on camera. Both Ferrari 458 Italias suffered substantial damage to their front ends with both likely to be considered complete write-offs.
Fortunately, both drivers were safe and we can only hope insurance will cover the costs.