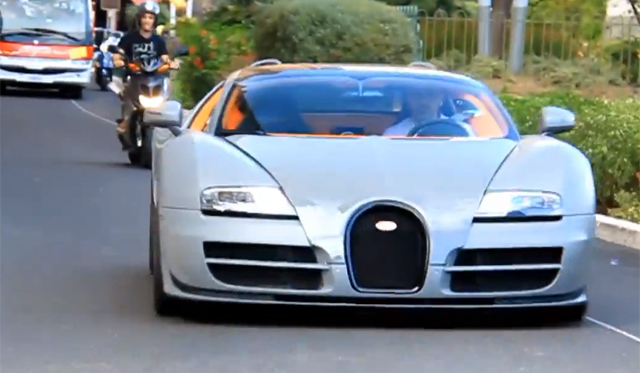 A unique grey Bugatti Veyron Grand Sport Vitesse was recently spotted leaving its exotic car dealership in Monaco for the first time in a few months. The following video was filmed by Fipeux on YouTube!
Inspired by the record breaking Bugatti Veyron Super Sport, the Veyron Grand Sport Vitesse is powered by a 8.0-liter W16 engine which puts out an impressive 1,200 horsepower (882kW) at 6,400 rpm. The peak torque of 1,500Nm is reached in between the 3,000 and 5,000 rpm.
The increased power of the new roadster's 16-cylinder engine is made possible by the four enlarged turbochargers and intercoolers. The chassis has also been modified to support the power increase, which enables the driver and passenger to enjoy a maximum lateral acceleration of 1.4 g.
Power is transferred to all four wheels via a seven-speed direct-shift gearbox with a shift time of 0.1 sec. The first gear goes all the way up to 104km/h and the seconds goes to 148km/h, an illegal speed is almost every country in the world. The third gear takes you to 197km/h, the fourth to 257km/h, the fifth 313 km/h, the sixth 377km/h and the seventh gear takes you to the top speed of 410 km/h.
With a kerb weight of 1.990 kg, the Veyron Grand Sport Vitesse is able to accelerate from standstill to 100km/h in 2.6 seconds. It takes only 7.1 seconds to reach the 200km/h and the 300km/h barrier is hit in exactly 16 seconds. The Veyron Vitesse runs a quarter mile in 10 seconds and covering a complete mile from standstill takes 25 seconds.