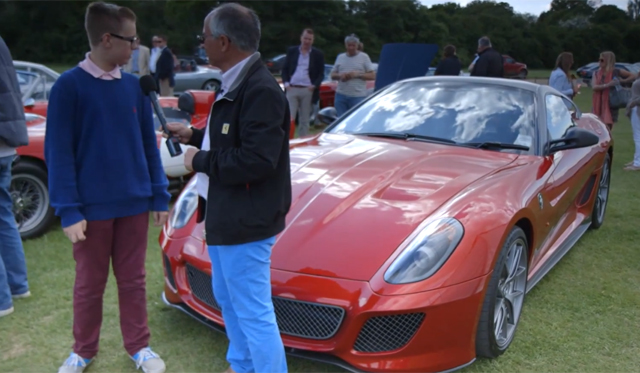 What were you doing when you were 12? Chances are you weren't out purchasing Ferraris with the millions you had made from creating a single, extremely-popular mobile app. However, for a 12-year-old British boy named Callum that's reportedly just what he has done to become the world's youngest Ferrari owner.
FgearTV on YouTube recently met up with the young entrepreneur to briefly talk about his successes as an app developer but primarily to talk about the Ferrari 355 Berlinetta he 'purchased' when he was 10 which he later gave to his dad, and his brand new Ferrari 458 Spider and a rare Ferrari 599 GTO. Callum claims to have purchased all three cars with his own money after selling his app to Google for 8.5 million pounds.
As you would expect from any automotive enthusiast, Callum swiftly set about putting that money to good use by exploring his passion for cars with a Ferrari 355 Berlinetta. While in the above video Callum claims to have purchased the Ferrari 355 Berlinetta, in the video below filmed a couple of years ago, his Father states that he was given the car by his grandparents. Nevertheless, it's been fitted with a Larini exhaust system and is about as unique as Ferrari 355 Berlinettas come.
Due to his age, Callum is only allowed to drive his Ferrari 458 Spider and Ferrari 599 GTO on private roads or on the track but he does state that he uses the Ferrari Spider as a daily driver and the Ferrari 599 GTO strictly as a track car. He then goes onto reveal that he's interested in purchasing the sold-out LaFerrari. While all of this may sound too good to be true, Callum is set to feature in a new documentary series from FgearTV which will hopefully answer all your questions and queries.
Update: The video is a hoax!