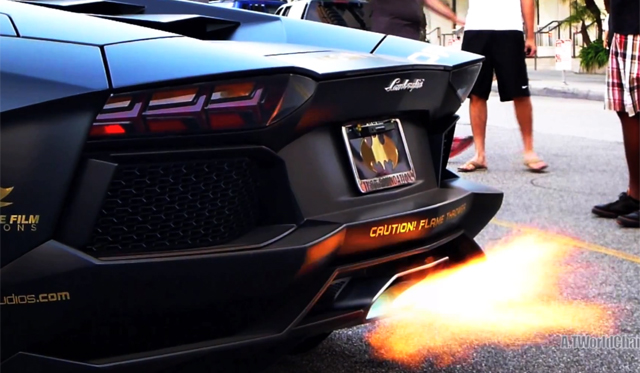 Who doesn't love watching a Lamborghini spitting flames, especially a matte black Lamborghini Aventador driven by an attract blonde and that's exactly what the following video includes!
The following Lamborghini Aventador has recently been dubbed the 'Batventador' because it features a selection of Batman decals including a large matte gold Batman logo on the front hood. The following video was shot at the Gold Rush Rally 5 and includes some incredible exhaust notes as the car sits on redline for quite a long time!
As a small recap, the Lamborghini Aventador features a 6.5-liter V12 engine producing 692hp and 690Nm of torque. Consequently the car can hit 62mph in just 2.9 seconds and a top speed of 217mph.
The gearbox combines minimal shift times – almost 50 percent shorter than with a dual-clutch transmission – and everyday usability with low weight and dimensions. The resulting package is powerful and high-revving, yet compact. At 235 kilograms, it is also lightweight – with every single kilo of engine weight representing around three hp of maximum output. Not only was it developed entirely in-house by Lamborghini, it is also manufactured from start to finish at company headquarters in Sant'Agata Bolognese.
Lamborghini ISR (Independent Shifting Rod) is a brand new technique for the Italian supercar builder. Instead of taking place in series, as with a conventional gearbox, shifting can occur virtually in parallel. While one shifting rod is moving out of one gear, the second shifting rod can already engage the next. Moreover, the transmission weighs only 79 kilograms – a distinct benefit, even against comparable DSG transmissions, which are considerably heavier.