After Nissan recently abandoned the DeltaWing project in favour of a dramatically redesigned LeMans prototype, the Japanese firm has finally released its Le Mans Prototype for the 24 Hours Le Mans 2014 with the part-electric Nissan ZEOD RC.
The name stands for the Zero Emission on Demand Racing Car and features a similar shape to the Nissan DeltaWing but one which has been thoroughly improved in all areas. With the being said, it still features the unique design with the wide rear-end tapering to a narrow front. The Nissan ZEOD RC is set to make its testing debut later this year before pounding the pavement at Le Mans next year. Nissan hopes that the Nissan ZEOD RC will be able to do one lap in purely electric mode per stint during the race.
As a result of a racing debut being so far away and further testing still down the road, not all the technical specifications for the Nissan ZEOD RC have been released except for the fact that the new Le Mans prototype is completely electric and should be capable of exceeding 186mph.
One other thing which has been confirmed is that the Nissan ZEOD RC features the same basic battery pack as the Nissan Leaf road-car, albeit extensively modified to provide additional power and longer range.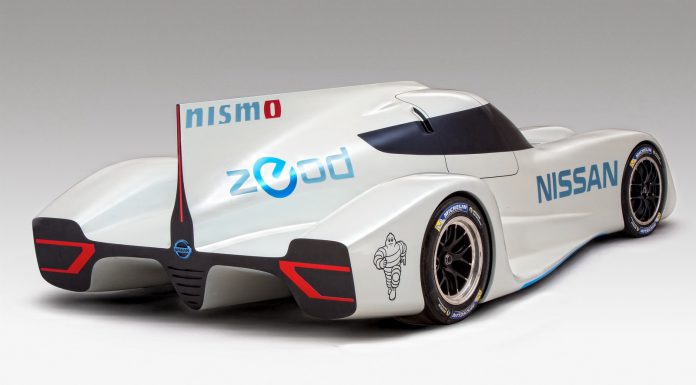 Executive Vice President and Executive Committee member at Nissan Motor Company Limited Andy Palmer said, "Nissan has become a global leader in the development of zero emission automotive technology, and the Nissan ZEOD RC will allow us to further develop those capabilities using the toughest endurance race in the world as a mobile test bed to test the potential of our planned LM P1 power train.
"The ZEOD RC program is designed to develop multiple technologies to evaluate how they could be used for a future LM P1 class return of Nissan at the Le Mans 24 Hour. There are multiple options we are investigating. A Zero Emission on Demand option where the driver can switch between electric and petrol-powered drive is a future direction for road cars, so that will be tested in addition to pure electric power and other new technologies that we still have under development."