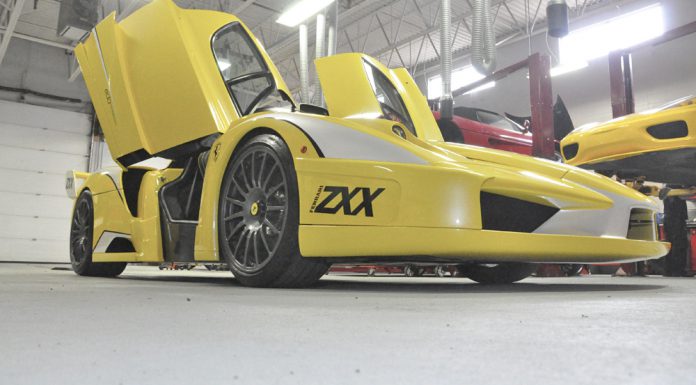 It all started almost two years ago when the rear-end of Zahirs Rana's prized 2003 Ferrari Enzo XX Evolution slipped on a gravel patch and ended up nose-first in a lake during the 2011 Targa Newfoundland Rally. Zahir was shaken up by the crash, but he was determined more than ever to resurrect the Enzo and breathe new life into it.
Over the weekend, the Enzo, dubbed the 'ZXX,' was flown from the Luxemburg airport to Calgary, Alberta, Canada. Rana drove to the Calgary airport on a rainy Tuesday afternoon and finally took possession of his brand new street-legal Ferrari FXX. Of course Rana was ecstatic!
"I'm really glad to have it home," he said. "It's been a long time, but we're ready to get out there and drive!"
The return of the ZXX has been highly-anticipated by Rana. The transformation of the ZXX began on September 27, 2011. Over the course of its nearly two-year transformation, Rana was in constant contact with the engineers at Edo Competition, and flow to Germany on occasion to check up on his $2.3 Million investment. Now safe and sound in Calgary, Rana is ready to release the ZXX onto the streets and do what the car was built to do: drive!
[youtube]http://youtu.be/0HeHW56c-NY[/youtube]
Rana explained that the ZXX now boasts a 6.5L Ferrari V12 motor, fully re-built by Edo Competition, and capable of producing 950 horsepower. The car was outfitted with custom Edo Competition wheels and a brand new beastly exhaust system. The new vehicle design was inspired by the Ferrari FXX, but includes many small details to make it a one-of-a-kind hypercar. Rather than traditional side-view-mirrors, Rana's ZXX is outfitted with three back-up cameras with view screens inside the cabin of the car. Even the seats are fully customized. The old seats weighed just over 20 kilograms, and according to Rana, the new seats are around five kilograms. A completely new interior was constructed to give the ZXX the complete look.
Even down to the paint, this Enzo ZXX is truly unique.
"Did you know that we went through over 5,000 paint samples just to get the right colour?" Rana asked. "I wanted something unique – something that had never been done before."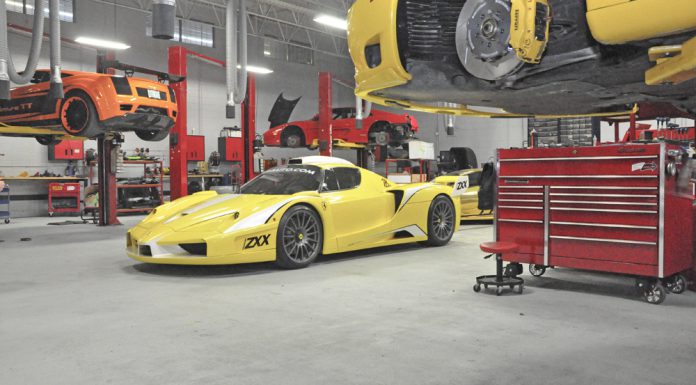 With a top speed of 395 km/h, the ZXX will undoubtedly get Rana into a bit of trouble. Rana has already gotten his yellow stallion up to 378km/h when the ZXX was still in Germany. But Rana already has plans for his new yellow and white monster back home in Canada. Firstly, he just finished a charity track event in Edmonton, Alberta, in which members of the public got an opportunity to ride shotgun in Rana's ZXX for $300.00. Then he'll be ready for round two of the Targa Newfoundland Rally this September.
"It's been a long time coming, but it's been worth it," Rana said. "Now I get to drive it again!"
Edo Competition put together this video depicting the rise and fall of the mightly ZR Auto ZXX.
[youtube]http://www.youtube.com/watch?v=OPLUQBe_3vs&feature=player_embedded[/youtube]