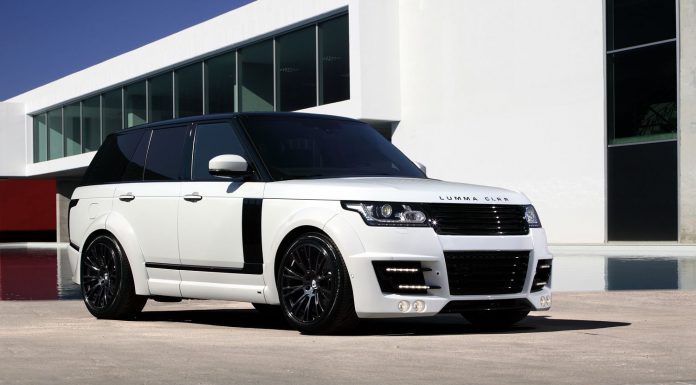 These are the first real life photos of the Lumma CLR-R which is based on the 2013 Range Rover. Lumma announced the project earlier in the year and the first real life example has been completed in Russia. Just like the official photos, the Range Rover wears a white color albeit the wheels finished in black.
The CLR-R kit comes with a front spoiler bumper featuring a large vent in the center and an integrated cup spoiler sword. Lateral design frames enhance the daytime running lights. The designers have additionally remodeled the front grill. The new hood features air vents and can be ordered in carbon fiber or painted finish.
You shall also notice that it has wider wheel arches on the front and rear axles and extended side skirt panels. The SUV is about 50 millimeters wider on each side. A bumper and diffuser in carbon, full-carbon tailpipe deflectors and an extended roof spoiler with additional brake light are featured at the rear. Lumma also tunes the 5-liter supercharged engine from 510hp to 540hp.
The wheels are CLR 22 Mono which measure 12×22 inches and are shod in 315/30-22 tires. A sport suspension-lowering module brings the Range Rover 40 millimeters closer to the asphalt. A stainless steel sport exhaust system provides the off-roader with enhanced performance. A throttle control system is responsible for improved sound.