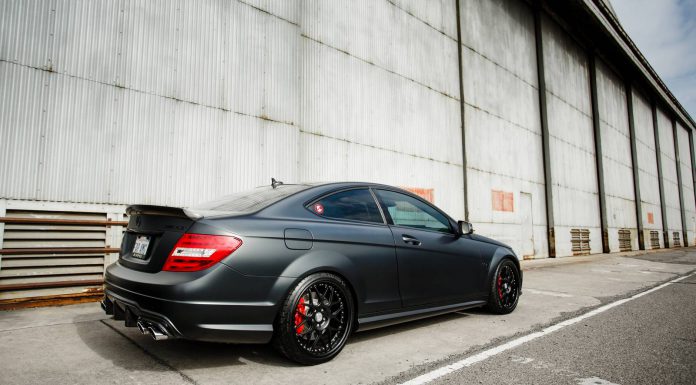 We have another of Mode Carbon's projects to share with you, based on one of their favorite cars, the Mercedes-Benz C63 AMG Coupe. This time the European muscle car comes in black and has been dubbed the Carbon Fantasy.
Finished in designo Magno Night satin black from the factory, the tuner added a full carbon fiber treatment at the rear allowing the lightness products to grace its rear end. They include the Mode Carbon Luftstrom Rear Diffuser and a signature boot lid spoiler to give it the menacing stance on the rear end.
The stock wheels were replaced by HRE Performance Wheels, the three-piece HRE 590RS are finished in black too. Red calipers are visible giving it the contrast it deserves. To ensure the perfect drivability with the new wheels, they added H&R Springs as part of the suspension.
Since it's introduction in 2008 with 451hp, the Mercedes-Benz C63 AMG has evolved greatly receiving incremental increases in power over time with extra packages added too. The 6.2 liter V8 has been repeatedly tuned and used in various motorsports events.