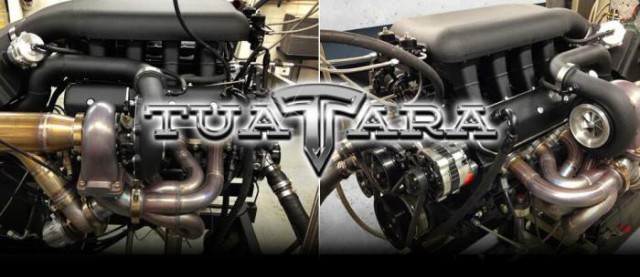 Not long after revealing that development of its 1,350hp engine for the upcoming SSC Tuatara had been completed and that deliveries of the new American supercar are expected to begin in December, SSC have now revealed additional details about the powerplant.
First and foremost, the 7.0-liter V8 engine found in the upcoming SSC Tuatara has been developed in conjunction with Nelson Racing Engines (NRE), an American company well known for creating some truly incredible engines. In fact, Nelson Racing Engines has a wealth of knowledge in creating engines producing in excess of 1,500hp!
Before the SSC Tuatara hits production, SSC will complete the 7.0-liter V8 with a new DOHC system in place of the pushrod design currently featured. Furthermore, SSC is so pleased with its new engine that it's confirmed it'll ditch the carbon fiber engine cover once planned and replace it with a clear engine cover so the 1,350hp engine can be seen in all of its glory.
Numerous SSC Tuatara prototypes have been testing for over 12 months wearing the exterior panels of the SSC Ultimate Aero with the brand new mechanicals underneath. When the SSC Tuatara finally hits the production line, it's expected to weigh just 2,750 pounds and should consequently sprint to 62mph in just 25 seconds and onto a proposed top speed of 276mph.
SSC founder Jerod Shelby said, "It has been very impressive to see what we have accomplished by integrating designs from our existing bespoke engine with NRE's long-time design expertise in high-output, forced-induction engines.
'We are very proud of this power plant, and we're confident that the automotive enthusiast will be also."
[Via Motor Authority]