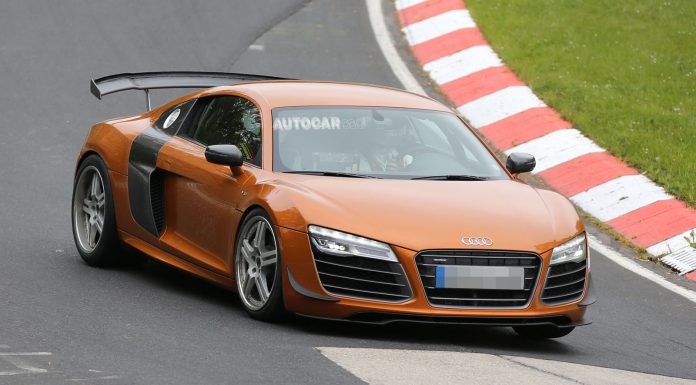 The 2014 Audi R8 GT which was recently spied testing at the Nurburgring is set to make its public debut at the 24 Hours Le Mans 2013 next week.
Throughout the Audi R8's production run, the original Audi R8 GT remains as the model's most hardcore, and stripped down racer for the road and these spyshots indicate that the 2014 Audi R8 GT will feature a selection of new aerodynamic components compared to the previous-generation Audi R8 GT. At the moment, the most powerful car in the facelifted Audi R8 line-up is the 2014 Audi R8 V10 Plus which produces a total of 550hp.
The first-generation Audi R8 GT produced an extremely impressive 560hp and was limited to just 333 units in coupe form, meaning Audi will obviously have to push the power envelop even further if it's to create a truly mighty range-topping Audi R8.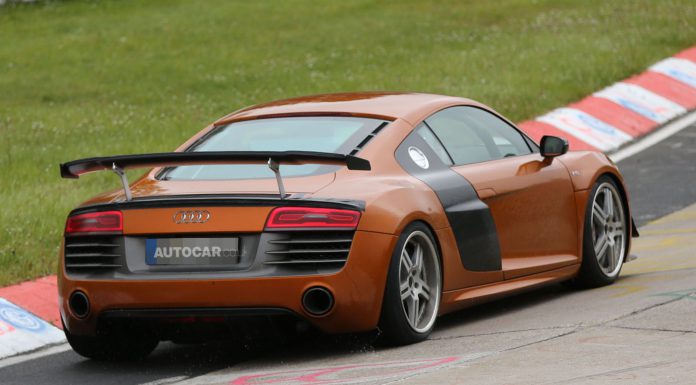 As the following spyshots highlight, this particular 2015 Audi R8 prototype features a selection of more aggressive and aerodynamic components including a new front splitter, large side air intakes and two carbon fiber canards up front. However, the most outlandish and eye-catching feature present on this particular 2015 Audi R8 GT prototype is its massive rear wing, similar to those fitted to Audi R8 LMS race cars.
[Via Autocar]