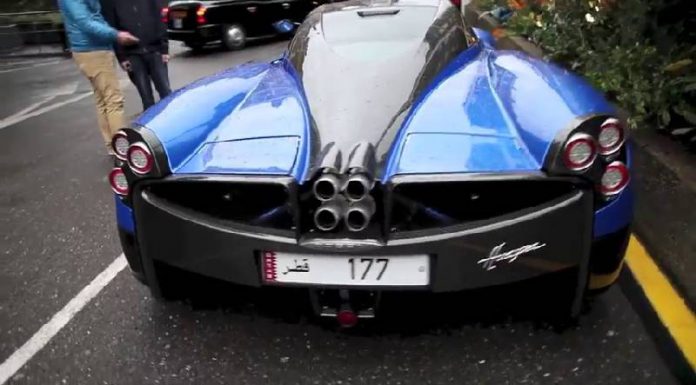 "Summer in London!" -that is a common phrase well known to the Arabs. The supercar season has just begun and the wealthy Arabs are not wasting a single moment in it, they have started arriving with their toys to the city of London, the world's most visited city gauging by number of international arrivals.
The latest toy to hit the streets is a blue Pagani Huayra and this happens to be the second Huayra widely spotted in London. This video was sent to us by YouTube users Supercars of London, the Huayra was spotted on a busy street where a group of car spotters feasted their eyes on it. From the video, the door refuses to close and the car was proving technologically advanced to its owners before it could start moving.
The Huayra was announced in January 2011 before it started making appearances in major autoshows and so far we have even seen a full carbon fiber option for this supercar. Its ferocious nature has seen set fast laps such as the one on Top Gear, the fastest so far at 1:13:8 minutes. It has a 6 liter V12 AMG engine that is fed by a twin-turbo set-up which produces 720bhp and a top speed of 370km/h, its 0-97km/h time is 3.3 seconds.
These wealthy Arabs had to part with not less than $1.3 million, which is the current base price for the Huayra.