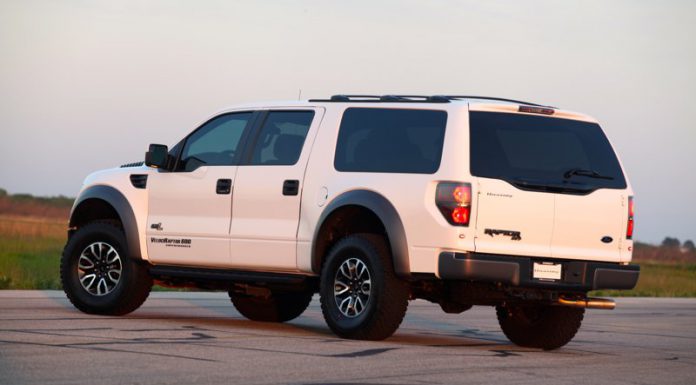 Hennessey recently revealed the VelociRaptor 600 SUV based on the Ford F150. Hennessey turned the VelociRaptor into a full-sized SUV big enough for seven persons. They have now revealed a video of the SUV in action, and just like you would expect, the video doesn't disappoint. In fact is shows the true colors of the powerful American SUV.
Just a reminder, The SUV will be offered at a price of $149,500 and only 30 will be made each year. They are powered by the normal 6.2 litre 420hp Ford V8 engine but those wanting slightly more power, the VelociRaptor 600 package will be made available at an additional price.
The VelociRaptor 600 Supercharged upgrade includes centrifugal supercharger system, air-to-air intercooler, high flow K&N air filter, fuel injector upgrade, stainless steel long tube headers, high flow catalytic converters and a stainless steel cat-back exhaust.