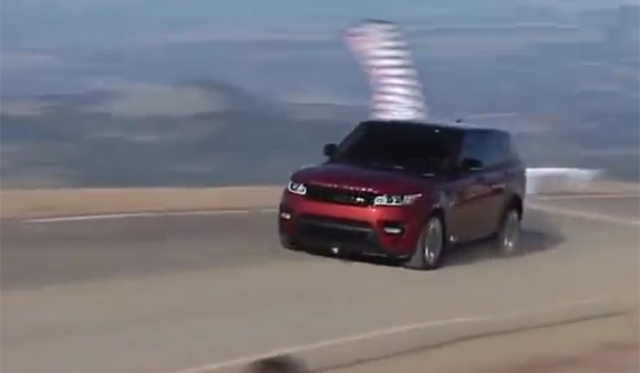 The 2014 Range Rover Sport recently set a new SUV benchmark when it finished the infamous Pikes Peak International Hillclimb recently in an SUV-class world record time of 12 minutes and 35 seconds at an average speed of 59.17mph.
Just a couple of days after that feat was accomplished, the very first video from the record-breaking Pikes Peak International Hillclimb 2013 run has just been published with the following clip being filmed entirely from a chasing helicopter. While setting a new SUV world record at Pikes Peak is certainly impressive, it's worth noting that prior to the 2014 Range Rover Sport's run up the hillclimb, there was no previous production SUV record.
Nevertheless, sprinting up the mountain in under 13 minutes in a completely stock standard luxury SUV is extremely impressive considering the 156 corners, 12.42 miles and up to 14,110 feet of elevation which has made the Pikes Peak International Hillclimb such a gruelling event.
As a quick refresher, the 2014 Range Rover Sport is powered by an impressive 5.0-liter supercharged petrol V8 engine pumping out over 500hp. In addition to this uprated engine, the 2014 Range Rover Sport weighs significantly less than its predecessor thanks to the heavy use of lightweight materials including aluminium.
Stay tuned to GTspirit for more Pikes Peak 2013 news in the coming days!