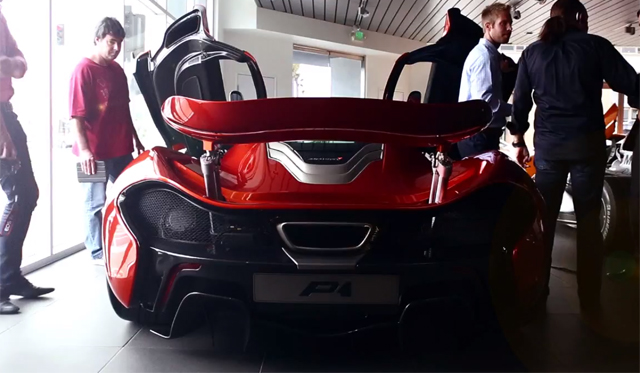 An extremely rare volcano orange McLaren P1 recently landed at McLaren's mega-dealership in Newport Beach, California and SotA1080 on YouTube was fortunate enough to film the British supercar on one of its very first American outings.
This particular McLaren P1 is in fact just the concept version of the McLaren P1 as it doesn't feature the additional air intakes in front of the front tires. However, this McLaren P1 concept has been updated with the finer grille at the rear of the car.
Included in the following clip are an awesome array of different angles highlighting all the best visual aspects of the McLaren P1, with a few shots of the interior giving us a great look into the simplified interior clearly designed around the driver.
The McLaren P1 will use a mid-mounted 3.8-litre twin-turbo V8 petrol engine fitted with two turbochargers and an electric motor. Together, this produces 916ps (903bhp) and a maximum torque figure of 900Nm. The petrol engine alone produces 737ps (727bhp) at 7,500rpm, and 720Nm of torque from 4,000rpm with the electric motor supplementing 179ps (176bhp) and 260Nm of torque. The power is channelled through the dual-clutch seven-speed gearbox to drive the rear wheels.
The P1 was designed from the outset to prioritise aerodynamic performance. As a result, the designers spent many hours in a wind tunnel and behind the computer with CFD (computational fluid dynamics) aerodynamic modelling. It produces a staggering 600kg of downforce from well below top speed, five times more than the McLaren MP4-12C. In fact, it's closer to the GT3 racer than anything else.