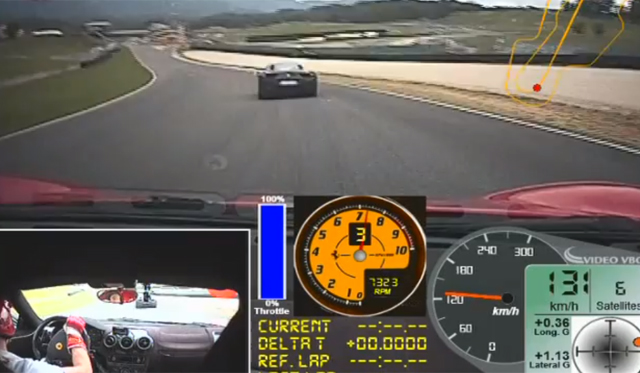 Remember the recent video we brought you of a Ferrari 458 Spider drag racing a Ferrari 430 Scuderia? Well we have an awesome follow-up video featuring a black Ferrari 458 Italia and another Ferrari 430 Scuderia racing around the Mugello race track filmed from the dashboard of the Ferrari 430 Scuderia!
The 2008 Ferrari 430 Scuderia features an uprated version of the 4.3-liter V8 engine found in the regular Ferrari F430. However, this potent, high-revving powerplant has been uprated to now produce 508hp at an insane 8500rpm. Combine that with a rear wheel drive system and an advanced semi-automatic six-speed transmission which can shift in just 60 milliseconds, and the technology behind the Ferrari 430 Scuderia still makes it an extremely impressive beast to this very day.
Fast forward a few years, and we come to the Ferrari 458 Italia. It features a completely new 4.5-liter V8 engine developing an even more impressive 570hp with the engine revving all the way up to an insane 9,000rpm. Consequently, the Ferrari 458 Italia is slightly faster in a straight line than the Ferrari 430 Scuderia with it capable of hitting 62mph in just 3.4 seconds and a top speed of 201mph.
However, will the lightweight Ferrari 430 Scuderia be able to keep up? Watch the video above to find out!