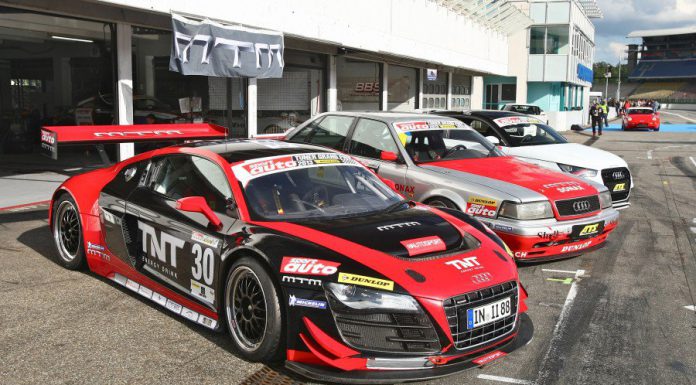 The Tuner Grand Prix 2013 came to an end last weekend and it's MTM with their Audi R8 V10 who set the fastest lap time. The organizers choose the Motordrome Short Course as the place to set these records. Out of all the 66 competitors, MTM Audi R8 tuned to 606hp set the best time of 1:06.695 minutes on the 2.6km track.
It was Florian Gruber, MTM's chief racer and test driver who was driving the Audi R8. In another class dominated by VW Golfs, MTM managed to be among the high ranks with their Audi A1 Quattro. It was still driven by Florian Gruber who recorded a best time of 1:14.0 minutes. The MTM R8 was running on BBS wheels with central locking and wrapped with Michelin Pilot Sport Cup tires.
Roland Mayer, MTM's Managing Director could not hide the excitement;
Armed with a stopwatch and under comparable conditions it's always good to show what a car prepared by MTM is capable of. On some another occasion, we will then demonstrate that our success is built not just on peak performance but on our reliability as well.
The Tuner Grand Prix has become an annual tradition for German tuning brands and the final trophy is highly coveted. Last year, 24 different companies took part and an estimated 30,000 visitors came to the Hockenheimring to take a look at the cars and the action. The winner of each class is determined by Sport Auto drivers who set five fast lap times. The average of the five fastest laps is then calculated and the highest score wins its respective class.