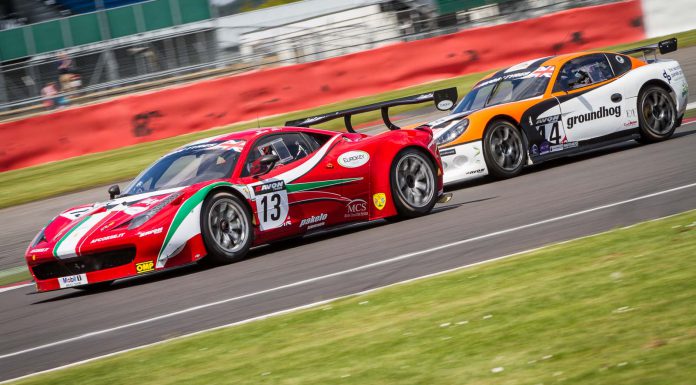 The fourth round of the British GT took to the track at Silverstone, United Kingdom over the weekend. The three hour race comprised of 48 car entries, the biggest numbers to compete so far this season. The British GT race was held alongside BRSCC Mazda MX5 Trophy, Protyre Motorsport Ginetta GT5 challenge, APR VW Racing cup and Cooper Tires British Formula 3 International Series.
Over the last three rounds the Trackspeed team have dominated with their three racing cars, each taking a victory. However with just one hour of the race completed the ultimate disaster happened for the team. Within two laps all three cars had collisions and had to retire from the race. The weirdest collision for the team involved David Ashburn who whilst entering pit lane and looking at his controls misjudged his cars position and collided with the barrier, resulting in the car spinning and losing its rear wheel. This created chaos in the pit lane as the marshals had to remove the wreckage and debris on a live pit lane.
The current winners of the GT4 championship Zoe Wenham and Declan Jones had to stop off track with just under two hours of the race remaining. This will result in their lead ahead of Steve Chaplin and Tom Wilson in the No. 53 Complete Racing Aston Martin GT4 reduce. However Zoe was able to get back in the car and the team only had the option of chasing as any points as they could.
With half the race completed it was a Ferrari 1-2-3 No 3, No 27 and No 14. However this wouldn't continue as the Pole position runner crossed the finish line in the No 79 BMW Ecurie Ecosse driven by Oliver Bryant and Marco Attard. Seventeen seconds behind in second place was No 007 Beechdean AMR Aston Martin driven by Adam/Howard and third position went to 888 Optimum racing BMW Z4 Driven by Brown/Tandy.
The Blancpain Gentleman Drivers Trophy was awarded to Mark Poole one of the drivers in the No 80 Barwell Motorsport Aston Martin.
Drivers of the winning cars said:
Oliver Bryant #79 Ecurie Ecosse BMW (GT3 Winner)
'A really, really good result. Marco did a great job today, and all weekend really. The team gave us a perfect set up, no issues at all in the race with the car. It was avoiding other people's mistakes that was the key. A really great result for us!'
Marco Attard #79 Ecurie Ecosse BMW (GT3 Winner)
'This is fantastic! It's all down to Olly and the team really, I've learnt so much from them, especially this weekend, and they've all done a great job. The BMW goes really well at certain parts – through Becketts, absolutely fantastic – then there are other parts where it's a little hairy, but overall it was really good; I'm very happy!'
Race Results
1 No 79 Ecurie Ecosse BMW Z4 GT3 – 3:01:17.154
2 No 007 Beechdean AMR Aston Martin Vantage GT3 +17.080
3 No 888 888 Optimum BMW Z4 GT3 +26.650
4 No 10 M-Sport Racing Audi R8 LMS Ultra +56.647
5 No 29 AF Corse Ferrari 458 Italia GT3 +1.17.438
6 No 80 Barwell Motorsport Aston Martin Vantage GT3 +1.25.771
7 No 28 AF Corse Ferrari 458 Italia GT3 +1.26.216
8 No 13 AF Corse Ferrari 458 Italia GT3 +1.48.356
9 No 1 Oman Air Motorbase Porsche 997GT3 R +1.48.559
10 No 48 Prosspeed Competition Porsche 997 GT3 R +2.06.486
11 No 3 Rosso Verde Ferrari 458 Italia GT3 +2.06.668
12 No 18 FF Corse Ferrari 458 Italia GT3 +1lap
13 No 14 Fortec Motorsports Mercedes AMG SLS GT3 +1 lap
14 No 15 CWS 4X4 Spares G55 Ginetta GT3 + 1 lap
15 No 40 CWS 4×4 Spares G55 Ginetta GT3 +1 lap