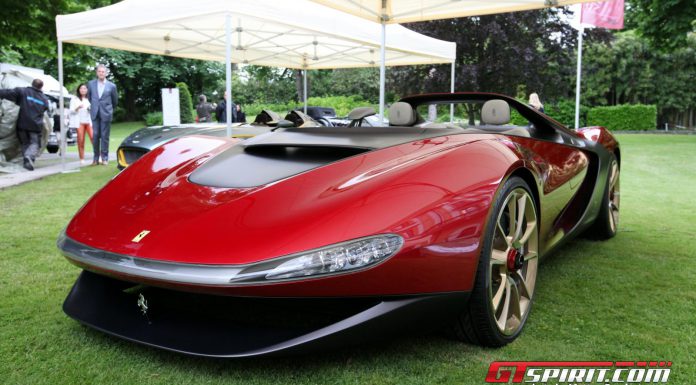 The Pininfarina Sergio Concept is yet another beautiful concept car that was showing at the 2013 Villa d'Este. The car made its debut at the Geneva Motor Show 2013. It pays tribute to Sergio Pininfarina who sadly passed away last year. As you would expect, it is a sporty, over the top two seater with an extreme design.
The Pininfarina Sergio Concept has an interesting set of features. It's a speedster as it has no roof or windshield. The rear C pillar appears to float with two large air intakes feeding the rear mounted engine. Underneath, the Pinifarina Sergio Concept uses a Ferrari 458 Italia basis with a 0-100km/h time of 3.4 seconds and a top speed of 199mph. The engine itelf remains Ferrari's 570hp 4.5-liter V8 engine.
The car made its debut at the Concorso d'Eleganza Villa d'Este event which took place on the shores of Lake Como, Italy. The event treated guests to a large variety of historical cars and concepts at the grounds of Villa d'Este. The Concorso d'Eleganza Villa d'Este is among the most significant of all events celebrating historic motor cars. It is undoubtedly the most traditional event which was held for the first time as early as 1929.