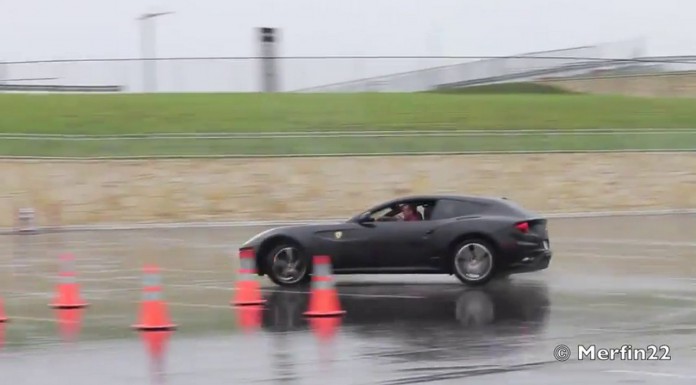 There could be nothing better than drifting two sports cars at the same time and on a wet track just as this video shows. These two drivers one in a Ferrari Challenge Stradale and the other in a Ferrari FF took it to the Circuit of the Americas or commonly known as COTA. Located in Austin, Texas, the circuit hosted the 2012 Formula 1 US Grand Prix back in 2012.
That already proves the perfection of the race track, as for these two drivers, the fun to them was trying to drive between several cones on a wet track while drifting their Italian sports car. The Ferrari Challenge Stradale was made for this kind of game and was based on the Ferrari 360 Modena. It came with better handling, braking and weighed less. Its 3.6 liter V8 had 420bhp, 20bhp more than the Modena. It can do 0-100km/h in 4 seconds and a top speed of 300km/h not to mention a drag of about -1.1:1.
On the other hand, the Ferrari FF is not shy of the track either; being the first 4WD Ferrari production car and with a 6.3 liter V12 engine, the car could really impress on any track. Thankfully all the 651hp from the powerhouse doesn't limit its drifting capability, in fact, it makes it more active!