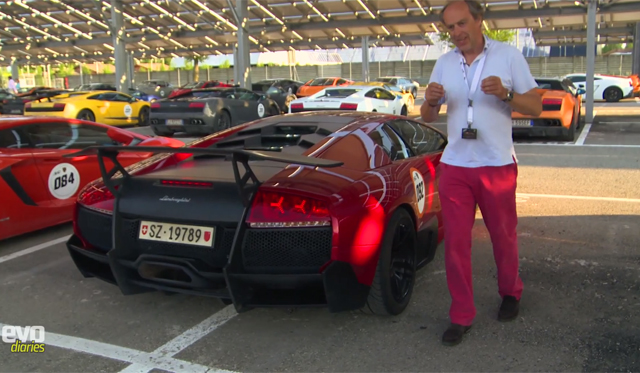 While attending the recently concluded Lamborghini 50th anniversary Grande Giro tour through the heart of Italy, Evo Magazine's and Lamborghini owner Harry Metcalfe walks us through all the Lamborghini production cars to have been fitted with Lamborghini's infamous V12 engine in the past few decades. Also have a look at the GTspirit Lamborghini 50th Anniversary shoot we did with some of the V12 highlights in the 50 year Lamborghini history!
The first production car road-legal Lamborghini to be fitted with a V12 engine was the Lamborghini 350GT which was soon followed by the Lamborghini 400GT. However, the Lamborghini V12 legacy didn't really start until the legendary Lamborghini Miura debuted as the company's first ever mid-engined, two seater sports car and is generally considered as one of the world's first supercars.
Following on from the Lamborghini Miura was the dramatically different Lamborghini Espada and while a few other Lamborghini's then debuted with smaller engines like the Lamborghini Urraco, the Lamborghini Espada came from a time where car designers truly had free reign over the design of future products.
The next V12-powered Lamborghini supercar was the extremely futuristically styled Lamborghini Countach, which was later followed by the Lamborghini Diablo, Lamborghini Murcielago and most recently, the new Lamborghini Aventador.
Lamborghini's latest V12 powered mass production car is the Lamborghini Aventador LP700-4 which features a completely new 6.5-liter V12 engine pumping out an awesome 700hp. As a result, the car can hit 62mph in just 2.9 seconds and a top speed of 217mph.