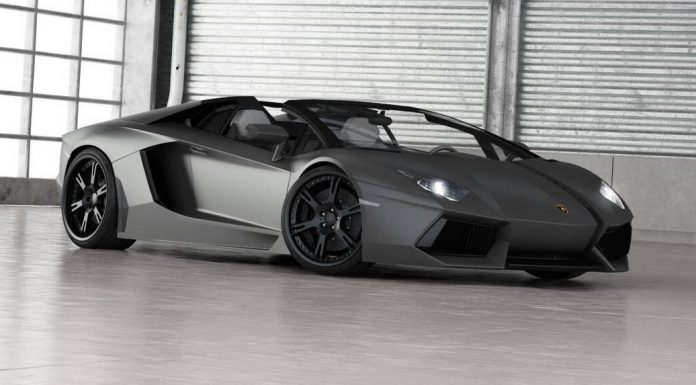 Wheelsandmore have released another speculative rendering for an up and coming Lamborghini Aventador LP700-4 Roadster package they intend to offer. The German tuning company will develop an exhaust system, performance increase and wheel set for the Italian exotic.
The car receives a power upgrade from 700hp and 690nm up to 792hp and 775nm of torque. The gains are acheived through the use of modified software, a cat-replacement-kit and valve controlled exhaust with remote-able exhaust flaps.
The wheel and tire combination includes Wheelsandmore's characteristic 6Sporz² ultralight handmade forged wheels. They come with a variety of individual finishrs and sized 9.5×20 and 12,5×21. Tyres measure 255/30/20 at the front and 355/25/21 at the rear and are provided by Pirelli.
For the exterior, Wheelsandmore suggest a complete car wrapping. The pictured colour is a navy-dark-gray matte and traditional Wheelsandmore racestripe. We wonder if any Lamborghini Aventador LP700-4 Roadster owners will opt for the package.