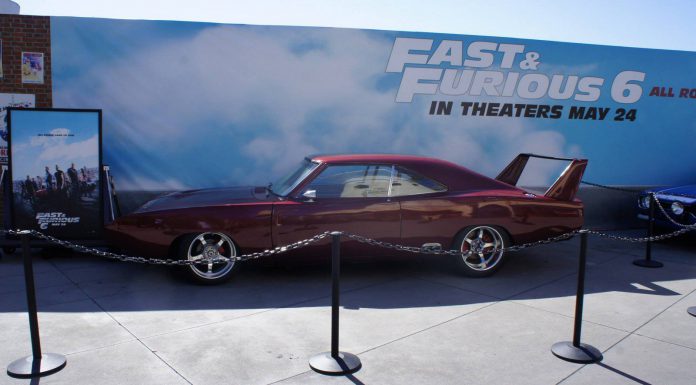 "You've got the best crew in the world standing right in front of you, give them a reason to stay" – one of the captured quotes from the upcoming Fast and Furious 6 movie set to premiere on May 24th around many global cinemas. To even spice things up, especially to Americans since the movie premieres on Memorial Day, the cars that were used in the movie are being presented to fans in various cities in the US.
The tuner who built the Fast 6 Nissan GT-R , the The R's Tuning from California, attended the last showcase event of the cars. They were at the Willow Springs International Raceway, located in Willow Springs near Rosamond and Lancaster, California. Their fans got to enjoy watching the cars in real life, not to mention the Paddock Diner next to it – apparently one of the best potato chips makers in the area.
Over time, the Fast Furious sequel has faced criticism of how fake the car scenes are and how real car enthusiasts should not credit them. In my opinion I tend to think that fiction is part of the fun, you paid for a ticket to get thrilled in the cinema but not to experience real life situations, otherwise you get those with your car each day on your way to work. Such movies call for you to forget about your car guru tips, forget how fast you drove on the autobahn and never had your car fly like Vin Diesel and enjoy the movie.
Back to Rosamond California, the fans enjoyed quite a variety of cars. They got to see Vin's new ride-the 1969 Dodge Charger Daytona. The 69 Charger Daytona was a fast car for sure, it became the first NASCAR racecar to go beyond the 200 mph mark on a lap on March 24, 1970 at Talladega Superspeedway in Alabama.
There was a 2011 Dodge Challenger SRT8 392 that features a 6.4-liter V8. It's dressed in a wide-body kit from Classic Design Concept then slammed on USW forged modular wheels. The Villain drives the custom built ramp car that you see. It's basically a Camaro SS since it uses the 6.2-liter LS3 V8 rated at 430hp. The director asked for it to have an F1 racecar inspiration and hence the open nature.
Other cars include the 2012 Lucra LC470, three built for the movie all featuring GM engines including the GM LS7 7.0-liter V8 and the previous 430hp 6.2 liter LS3 V8 that was fitted in two of them. For a full roundup on the Fast 6 cars, visit Edmunds. If the cars happen to be in your city, be quick with your camera and give us a heads up, we shall happily share your experience to the rest of the world.