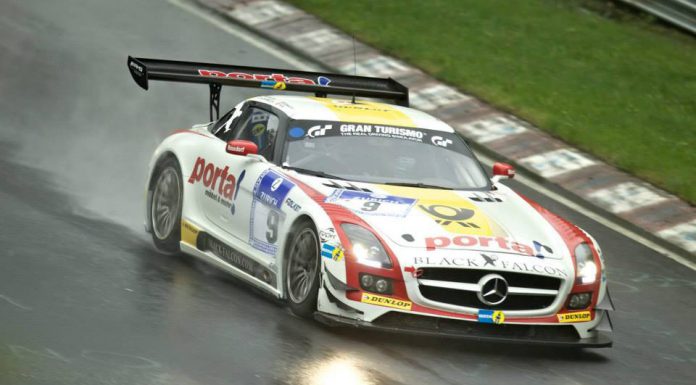 It was an emotional racing weekend for Mercedes-Benz after they claimed their first ever win at the 24 Hours Nürburgring since the racing series started in 1970. The Black Falcon Mercedes-Benz SLS AMG GT3 bought home the victory with five- time DTM champion Bernd Schneider and his team-mates Sean Edwards, Jeroen Bleekemolen and Nicki Thiim.
The 24 Hours Nurburgring see's its second first-time winners in the same number of years following Audi's success in last years race. It means a lot to Mercedes as it beat German rivals BMW who have recorded a total of 19 wins since the event first took place in 1970. Previous winners have included Ford in the early 1980's, Porsche and Opal. The Black Falcon racing team SLS AMG GT3 was also successful at the 2012 24 Hours of Dubai.
The Mercedes-Benz SLS AMG GT3 completed this weekend's race, finished 2m39s in front of Maxime Martin in the Marc VDS BMW Z4. It could have been a double win for Mercedes but the ROWE Mercedes was taken out by the Marc VDS BMW Z4. Audi showed good performance too, however, they were unable to perform as well as the competition. It was of course a similar story in the DTM for BMW at Brands Hatch this weekend. BMW hindered them from getting a podium finish at the Nurburgring.
While we give credit to Mercedes, BMW by securing the podium finish also made their highest ranking to date with the BMW Z4 GT3. It was driven by Maxime Martin, At the sixth lap, Uwe Alzen in the #19 BMW had made contact with the second BMW Z4 GT3 driven by Hürtgen, as a result, Uwe retired from the race after only six laps. BMW went home happy though since they scooped seven more wins in the classes D1T+D3T, SP10 GT4, SP 4+SP 5, SP 6, V4, V5 and V6 classes. They now have a total of 162 victories at the 24 Hours Nürburgring.
Audi didn't have it as smooth. Heavy rain forced race control to interrupt the race for more than nine hours during the night. Numerous accidents caused a treacherous mix of oil, mud and rain water on the track. In the end, Marcel Fässler, Mike Rockenfeller, Frank Stippler and Markus Winkelhock came in fifth place. Head of Audi Motorsport Dr. Wolfgang Ullrich said;
I've never experienced such a tough event of the 24-hour race since the R8 started running here. Still, our customers demonstrated a great fighting spirit. Our congratulations today go to those who finished the race and of course to the overall winners of Mercedes-Benz.