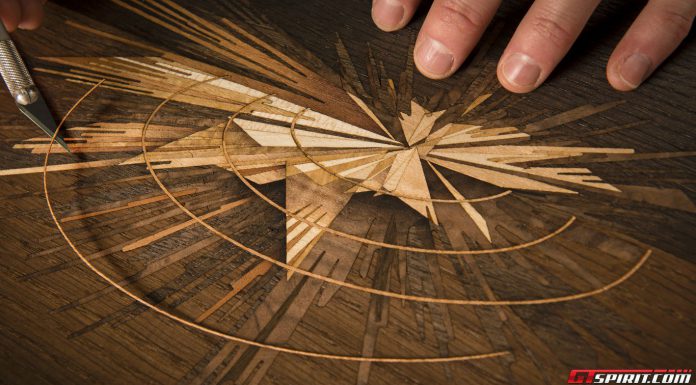 Earlier in January this year, Rolls-Royce announced that it will release a special collection of cars in 2013 conceived and designed by the Rolls-Royce bespoke team as a way of marking its 109-year history. The marque celebrated ten years of production at the Home of Rolls-Royce in Goodwood, England on 1 January 2013. Rolls-Royce now presents to us a rare glimpse into the skill of the marque's master craftspeople and unique manufacturing processes, that are still ongoing.
The team will present the design, engineering and craftsmanship employed in the construction of every car that leaves Goodwood in this Home of Rolls-Royce Collection. Exquisite marquetry, embroidery and hand-painted coachlines will carry specially designed Bespoke motifs that pay homage to the Rolls-Royce anniversary.
This is what Torsten Müller-Ötvös, Chief Executive Officer, Rolls-Royce Motor Cars had to say;
The Home of Rolls-Royce Collection showcases what makes Goodwood a unique centre of manufacturing excellence. A perfect blend of traditional crafts, cutting-edge technology and world-class Bespoke design has driven our success over our first 10 years. In this time, Rolls-Royce has taken its place as maker of the world's pinnacle super-luxury good, an achievement built on the passion and commitment of every craftsperson employed at Goodwood. This beautiful collection is a fitting way to celebrate an extraordinary decade.
The process is done keenly by a craftsman who cuts individual pieces of wood veneer with laser to ensure precision. They sections are assembled with the human eye being the most useful. Patterns embroidered on the seats contains 112,533 stitches which tale over an hour to complete, 1000 stiches per minute with the help of a machine. Other details include the co-ordinates engraved into tread plates, the bezel of the Spirit of Ecstasy and umbrella handles.
The exterior features a hand-painted coachline which culminates in a half-compass motif. The final part involves the 22-stage painting process using hair brushes, a process that takes around three hours. Final images of the completed cars will be released in the second half of 2013.
The Home of Rolls-Royce Collection in Numbers:
• 450 – Individual leather pieces cut and fitted to each Rolls-Royce Phantom
• 112,533 – Stitches comprise Home of Rolls-Royce Collection Phantom embroidery
• 672 – Metres of thread in every Home of Rolls-Royce CollectionPhantom
• 11 – Individual varieties of wood-veneer, cut and hand-applied to 'celebration' motif
• 20,000 – Wood veneer combinations available in every Rolls-Royce
• 44,000 – Individual exterior paint colours to choose from
• 58 – Layers to every Phantom wood part
• 100 – lbs of paint applied to every Rolls-Royce
• 60 – Pairs of hands take 400 hours to construct every Rolls-Royce motor car