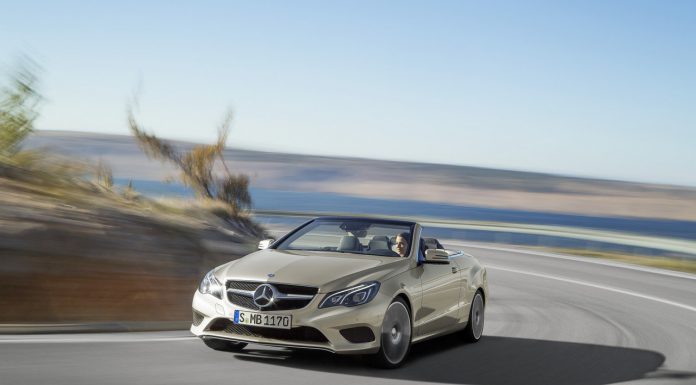 Daimler-AG has revealed new images of the 2014 Mercedes-Benz E Class Coupe and four-seat Cabriolet models. The According Executive Vice President Mercedes-Benz Cars, Sales and Marketing Dr Joachim Schmidt describes the new models with three words-captivating, athletic and passionate.
We had already featured the 2014 Mercedes-Benz E63 AMG 4Matic on here, which is the top notch model in the E-Class models. The new models come with LED low beam and LED daytime running lamps and this is the first time all-LED technology is available in this class. One cannot miss the new front bumpers with large air intakes and wing-design chrome detailing.
Their interiors are top of the line as is known with Mercedes, wood or aluminium with colors such as the deep-sea blue to contrast with the silk beige are the main options not to mention the cluster instruments such as the dials in white, trapezoid-shaped full-colour TFT display and the analogue clock between the redesigned air outlets.
There are a variety of engines offered in this model as is with the previous generation, and all feature the ECO start/stop function. There are six petrol engines ranging from 135 kW (184 hp) to 300 kW (408 hp). Accompanying them is three diesel engines ranging from 125 kW (170 hp) to 185 kW (252 hp).
These powerhouses will grace the new BlueDIRECT technology. In the four-cylinder petrol engine with spray-guided direct injection, the technology brings about fast-acting piezo injectors for multiple injection, fast multi-spark ignition, turbocharging, fully variable camshaft adjustment on the inlet and exhaust side and a regulated oil pump.This is the world's first use of the stratified lean-burn process in combination with exhaust-gas turbocharging and external high-pressure exhaust gas recirculation.
The V6 and V8 engines will also get this technology; the six-cylinder engine version is for the first time being offered as the E 400 with biturbo drive. All these engines meet the 2015 EU6 emissions limits. These powerhouses will be mated to a six-speed manual transmission and the 7G-Tronic Plus automatic transmission with Direct Select lever and shift paddles. Drivers will enjoy the new Momentary M mode which Momentary M mode which if the driver has shifted up or down manually, the transmission independently switches back to fuel-efficient automatic shift mode.