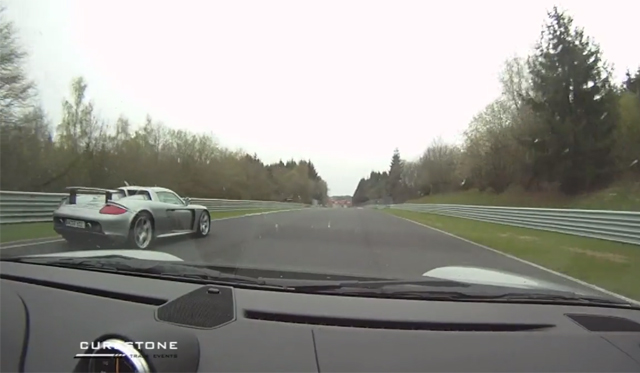 When it comes to naming the two most impressive Porsche's released in the past decade you'd be hard pushed to look past the Porsche Carrera GT and the more recent Porsche 911 GT2 RS.
Both of these cars have at one point topped out the Porsche lineup as both produce an identical 612hp. However, where the Carrera GT requires a 5.7-liter V10 to produce that figure, the 911 GT2 RS only features a twin-turbo 3.6-liter flat-six that actually makes it quicker to 62mph than the Carrera GT.
However, the Porsche Carrera GT is mid-engined rather than rear-engined like the 911 and could therefore be considered as the better handling car of the pair.
As a result, when a Porsche Carrera GT passed a Porsche 911 GT2 RS at the Nurburgring, it was only expected that the two would get into an impressive race around the infamous circuit where the pair stick together quite well until something goes terribly wrong for the 911 driver as he spins out coming over a crest and narrowly misses the barriers!
[youtube]http://www.youtube.com/watch?v=K9AdX01v2eE[/youtube]